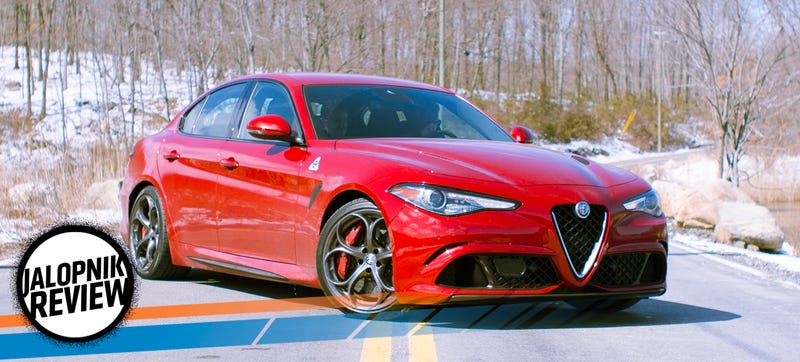 This isn't the Alfa Romeo that your dad had in college, the Spider that was great on sunny days but wrecked his bank account over and over again with its repair bills. This isn't the Alfa Romeo of the 1990s, after it left America and turned out one dismal Fiat-sourced front-wheel drive hatchback after another.
The Alfa Romeo Giulia sport sedan is one of the most important cars to come out in 2016, both for enthusiasts clamoring for a real Alfa Romeo comeback and for the struggling Fiat Chrysler brand. But some first-drive reviews in Europe reveal stereotypically Alfa-esque problems that don't exactly inspire confidence.
It has 505 horsepower from a Ferrari-developed, 2.9-liter twin-turbo V6. It does zero to 60 mph in 3.8 seconds. Alfa Romeo claims a Nürburgring time of just 7:39, supposedly the quickest ever for a sedan. Yes, the Alfa Romeo Giulia Quadrifoglio is going to kick all the asses.
It's damn near impossible to hate Alfa Romeos, due to all their, well, let's just say "charm." And when we saw the new Alfa Romeo Giulia, our feelings were no different. But those were all slick manufacturer photos and videos, so it was hard to see what it was really like. So here's the first video of the new hotness…