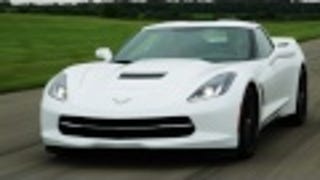 You have about $65,000 to spend on a brand new go-fast machine. Do you go for the V8-powered, better-than-ever Corvette Stingray or opt for the all new, all turbocharged BMW M4? Decisions, decisions...
Apparently, being a public servant in Dubai is like a real life version of Bad Boys or Miami Vice. You just get to drive sick performance cars everywhere and generally look awesome. We know the Dubai cops do this, and now we know even the fire department gets in on the action.
Chevrolet revealed new renditions of their performance cars at SEMA, including a real-life execution of their Gran Turismo 6 racer.
We knew this was going to happen sooner or later, and now here it is: the face-off between the 2013 SRT Viper and the 2014 Corvette Stingray. But I have just one big question. What's the point?
Screw you, Elon Musk! Car dealers are important. They do all kinds of useful things, like offering rust proofing and paint sealant and marking up the cost of exciting new cars by $20,000 or more. And the latest target of their awesome practices is the 2014 Corvette Stingray. Get out yer checkbook!
We knew that the new 2014 Corvette Stingray was going to have big horsepower numbers, but we didn't know they'd be this big.
The latest Corvette has gotten a lot of heat about its design, particularly the squared-off tail lights. "It looks like a Camaro!" the critics shout. "Too square!" they cry. "Change bad, round better!" they yell.
Pricing hasn't yet been announced for the upcoming 2014 Corvette, but if it's anything like the outgoing Corvette C6, it will start around $50,000. But there's a possibility that Chevrolet is working on an even less expensive "budget Corvette."
The 2014 Corvette Stingray is, for lack of a better term, damn good. I saw it in person at the Detroit Auto Show, sat in it, grabbed the wheel and rocked from side to side while I made engine noises with my mouth, and walked away impressed. It looks and feels like a great American car, and I can't wait to actually…
Now that the 2014 Corvette has finally broken cover, it can drop all that ridiculous camo it was wearing when it tested on public roads.
In case you were thinking that being a wildly famous millionaire is a joyless, arduous prospect you're happy to avoid, here's something that may change your mind: Jay Leno got to be the first non-GM employee to drive the new 2014 Corvette Stingray.
We now know that the new Corvette is going to be called a Stingray, in a nice nod to Corvettes past. They've even got a nice little stingray badge on the side there, and the steering wheel center has a stingray motif center.