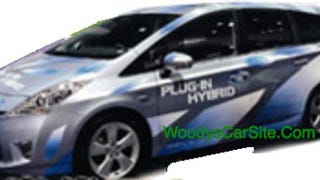 Toyota announced this morning the 2010 Toyota Prius will officially be the highest-mileage retail vehicle available in the U.S. with a combined EPA estimated fuel economy rating of 50 MPG.
Toyota continues to stick with its strategy of slowly releasing
tiny teasers
of the through the good folks at despite the fact that we've . But whereas the left us with questions, this latest photo answers a question Prius owners have had since the first model rolled off the assembly line: What the hell is up with…
If our sources at Green Hybrid are correct, this is a teaser for the upcoming . No, really. Of course, we'd be surprised if anybody actually felt any sensation of anticipation from this photo. Who knew Toyota could release an even worse teaser than the ? Although this shot does finally confirm speculation at least one…
The
new Toyota Prius
was caught this morning driving again through the streets of San Francisco. We've seen the testing in SF before, but never with such camera phone graininess. See if you can glean anything from this new shot. We know we can't.
Toyota is basing its production plans on projections that US gas prices could rise as high as $5.00 a gallon as soon as 2015. The Japanese automaker also believes the full-size truck market will experience a significant recovery in the near future. Despite demand for its fuel-efficient Prius hybrid reaching an…
The folks over at Winding Road... err... NextAutos, have procured some more photos of the new Toyota Prius we caught earlier this month. The next-gen Prius was caught taking a couple turns around the block, showing off its new body and the expected to longer and wider size to give backseat passengers a bit more space…
Is it the 2010 Toyota Prius? Maybe. All we know is it looks to be either a test vehicle for the next-gen Prius or the worst application of after-market Prius accessories we've ever seen. Unfortunately we're not expecting solar panels until the 2011 Prius, so that doesn't help us. Nor do we see any Chinese-made "Made…
Despite denials from Toyota of Prius assembly expansion from Japan to the United States, we've now received official word that the 2011 Toyota Prius will be assembled in a yet-to-be-built plant in Blue Springs, Miss. beginning sometime during 2010. In addition, the fuel-hogging Highlander will see production shift…
Toyota plans to install solar panels on the new Toyota Prius hybrid as a response to a "growing demand for green cars," reports Reuters. The panels will be supplied by Kyocera and would be able to power part of the air-conditioning as a "symbolic gesture" as it's "very difficult to power much more than that with solar…