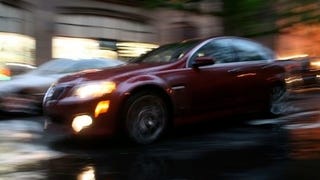 Pontiac will only build 2,000 Pontiac G8 GXPs and Solstice Coupes, ever, Buick/GMC/Pontiac marketing chief Cheryl Catton just informed us. She also called them potential "collector items." Time to get to the Pontiac dealership while those still exist.
You probably won't still be able to buy a 2009 Pontiac G8 GXP, but today we'll try to think of a single reason why you shouldn't.
Yesterday we considered the 2009 Pontiac G8 GXP while indulging in a bittersweet cocktail of horsepower and history in the making. Today, we drink deep the bracing tonic of dispassionate evaluation.
After our first drive of the 2009 Pontiac G8 GXP we told you it drove like a BMW M5. Well, now you can get that M5-like performance for just half the price —$39,995.
Like seemingly every other GM product to be launched in the last year, the Pontiac G8 GXP's handling was tuned on the Nurburgring. There, while being driven by development engineers (and not a professional race driver), it set a ring time of 8:30. That sounds pretty good, especially given the badge the G8 GXP wears on…
If I were to tell you GM is the new BMW you'd probably laugh at me. But driving the 2009 Pontiac G8 GXP just a couple of months after the 2009 Cadillac CTS-V and Corvette ZR1, that's exactly what I'm thinking. Equipped with a 6.3-liter, LS3 V8 making 415 HP and 415 lb-ft of torque, the G8 GXP isn't just the fastest…
I'm writing this from the back seat of the Pontiac G8 GT. That's a midlevel-performance version of the sedan GM Vice Chairman Bob Lutz asserts will return to Pontiac its long-absent dignity. Judging from the comfortable back seats and legroom, not to mention the reportedly solid platform, potent V8 and tight…
The curtain just lifted here at the New York Auto Show on the Pontiac that really is all about driving excitement, the 2009 Pontiac G8 GXP. As you know G8 GXP gets the goods from our favorite fiberglass sports car, the Chevrolet Corvette, complete with 6.2 L, 361 HP V8 and a 6 speed manual transmission. The fresh new…
Wow, how prescient were we to know to repeat the prescience of High Performance Pontiac magazine? Hmm, probably about as prescient as they were to have posted on the new 2009 Pontiac G8 GXP to begin with. But we digress as we're now officially able to tell you all the details on "the flagship" of Pontiac's GXP…
The Pontiac G8 GT commercial we showed you very early this morning was good at tightening the pants of any auto lover with a joy for recreating classic 80's Midway games. But there's still been some criticism of the arrow-headed brand over their neglect of the stick as well as some who believe the General's…