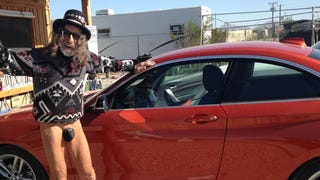 Top Gun. Top dog. The best of the best. That's how I would describe the M3 CSL version of the E46 BMW M3. This Euro-only special edition dropped the weight and added the paddle-shift SMG transmission to make a great car even better.
The 2015 BMW 2-Series, which is actually going to replace the BMW 1-Series, is about to debut. The Bavarian Motor Works have accordingly presented the world with this teaser video, in anticipation of the coupe's October 25th debut. If its predecessor is anything to judge it by, then it should be good.
Just two weeks ago, I was rejoicing over the fact that Bimmer Jesus heard my prayers for a slightly larger version of the BMW 3 Series that is inexplicably called a coupe despite having four doors. The result is the forthcoming 4 Series Gran Coupe.
It might be the BMW 1-Series or the 2-Series, but either way a new entry Bimmer is coming to the US, and 2Addicts has a new set of spy shots as evidence. The photos arrive courtesy of spy shooters Hans Lehmann, et. al., from points cold and northward, and show with new clarity the cabrio that first broke cover last…
A new spy video shows what looks to be BMW's rumored 2-Series cabrio being flogged on the N rburgring in fine form. If you weren't yet aware, loose talk going back to 2004 indicates the Bayerische boys are working up the new model range, which will include both coupe and cabrio models, for the US market. Word is…