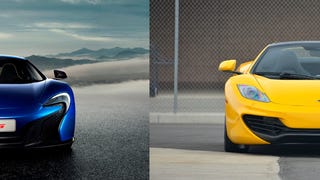 So by now most of us have seen the various photos and videos of McLaren's new model, the 650S, and there seems to be some controversy regarding the styling. Some are underwhelmed, some are upset, and others are disappointed they didn't go further. Most of that seems to stem from folks not entirely understanding what…
The forthcoming McLaren P15 will slip into the stream between the generically fast McLaren 12C and the ungodly fast McLaren P1, utilizing the same basic engine, chassis, and styling components that make McLaren the only supercar manufacturer able to truly challenge the likes of Maranello since Lamborghini.
McLaren was predestined to build a version of its MP4-12C for the pate-tanning set. But is the new Spider as good as the closed-top coupe that shares its nerdy alphanumer-name, or is it — like most other convertibles — a tragedy of compromise? Let's head to Spain and find out.
Here in Monterey for AWESUM CAR WEEK 2012!!!!!11111!11 (aka Pebble Beach), McLaren popped eyeballs with a raging-PMY-painted 12C Spider. The unveiling happened at a private party for the Gooding Moneybags Car Auction at the Pebble Beach Center For Horses That Cost More Than We'd Make If We Lived To Be 800 Years Old.
McLaren spares no expenses on its new car launch videos. The Sharper Image supercar 12C Spider gets top-dollar treatment here at the Ascari test track, on closed mountain roads, and with cinema-quality RED cameras.
We weren't wrong when we said the McLaren 12C Spider will go 186 MPH with no roof, but we could have been more right. The roof-less MP4-12C will actually keep going and hit 204 MPH.
Yes, but it's a $1.6 million piece of junk that can likely leave your new super car sucking wind in a straight line. [ArabianBusinesss]
Last night we brought you first photos of the McLaren MP4-12C, the super car successor to the vaunted McLaren F1. Now we've got a mega-load of new pictures and very, very complete details.