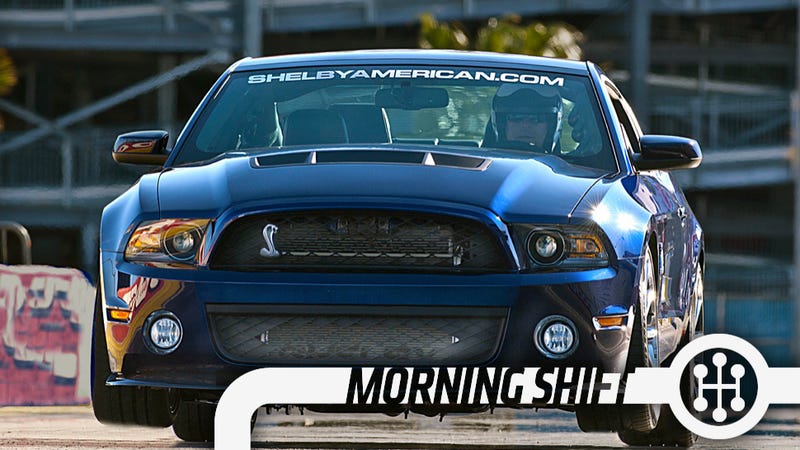 This is The Morning Shift, our one-stop daily roundup of all the auto news that's actually important — all in one place at 9:00 AM. Or, you could spend all day waiting for other sites to parse it out to you one story at a time. Isn't your time more important?
1st Gear: Viva Las Shelby
While space along the Las Vegas Strip is at a premium, the current Shelby American HQ is pretty far out of town near the Speedway, meaning that by the time someone who just hit three cherries gets out there maybe they decide they don't need a Shelby Raptor. Thus they're moving to the Las Vegas Strip.
Now, to give you a few caveats: Las Vegas Boulevard is quite long and there's a difference from being right in front of the Bellagio Fountains and being by the airport. They're by the airport. They're also not on the Vegas Strip but one block off. Still, it's an improvement.
According to Automotive News, the nearly $1 million facility will include five buildings, a "factory," and a gift shop.
Hopefully the expansion means we're getting a Shelby Fiesta, if only for how wonderfully ridiculous that sounds.
2nd Gear: The Infiniti G… Q50 Will Cost $37,605
The G-Series cars have never stuck me as the best luxury sedan you could buy, but they've always been a nice mixture of sporty and comfortable. Changing the name from G37 to Q50 isn't probably going to change that, and I've come around to the redesign.
WIth a new starting price of $37,605, which is a nice $190 drop from the outgoing model, there's another reason to look at the Infiniti. The Q50S hybrid goes for $49,055 and you can't load up a car past $57,355.
How important is the Q? USA Today says the vehicle accounts for about 70% of all of Infiniti's sales.
3rd Gear: Toyota, Honda Get Ratings Bump
No, they didn't claim to have seen a Chupacabra, Honda and Toyota are getting a rating bump from Moody's the old fashioned way: buying it.
Wait, sorry, that's the new way.
They actually did it the real old-fashioned way by surviving the series of natural and other disasters they faced in the last year. Both Honda and Toyota moved from negative with affirmed credit ratings of A1 and Aa3, respectively, reports Bloomberg.
Also, that new Corolla looks pretty good.
4th Gear: All Your Driver Assistance Software Is Belong To Finland
Per The Wall Street Journal, Daimler joins almost everyone else in a move to take what they don't do well (advanced electronics) and outsources their vehicle software to another company.
In this case, it's Finland's Elektrobit who will handle blind-spot detection, departure warning, and other features so they can, we hope, focus on more rocking AMG engines, which I'd guess that Elektrobit would suck at making.
This is a good thing, honestly, automakers shouldn't expect all the brilliance in the world to sit under their roof. In this new app-driven world, opening up their systems to other developers has many advantages (the main disadvantage, of course, is the ever present risk of Indonesian Islamoteens trying to kill us all).
5th Gear: Little Ceasers Now Third Largest, Fastest Growing Pizza Chain
Detroit is famous for making cars, but did you know they also made Pizza? Little Caesers Pizza ranked third amongst national pizza chains in the Nation's Restaurant News annual survey says The Detroit Free Press.
It's also the fastest growing of the major chains by US Sales and by the number of new stores. ALl this without a "we fucked up the sauce" ad campaign like Dominoes. I haven't had a Little Caesers pizza in forever, but I hear the Detroit-style pizza isn't half bad.