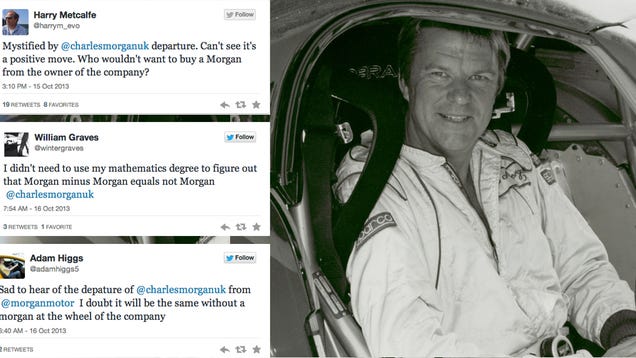 You've just been forced out of your position at a company your family founded and has run for generations. You don't want to say anything you'll regret later but you're clearly steaming. What do you do? If you're Charles Morgan you just go nuclear using Twitter's retweet function to let others say what you think you can't.
Morgan appears to have been forced out of his position at Morgan Cars, the British sports car company that's been in his family for more than a century and is famous for making antiquatedly awesome cars . He hasn't, however, been too hostile based on what he's been tweeting so far this week — but his retweets say much more.
Morgan has been relatively civil in his own comments about his forced departure. But he's been retweeting the shocked, outraged and disgusted tweets by other people about this new Morgan-less Morgan.

Sad strange day, thinking good thoughts about all the workforce at Pickersleigh Road #morgan
— Charles Morgan UK (@charlesmorganuk) October 15, 2013
Never thought I would envy the #morgan 3 Wheeler test drivers quite so much!


— Charles Morgan UK (@charlesmorganuk) October 15, 2013
Now here's what other people have to say, retweeted by Morgan himself. Clearly, there is a lot of support for this ousted businessman:
Mystified by @charlesmorganuk departure. Can't see it's a positive move. Who wouldn't want to buy a Morgan from the owner of the company?


— Harry Metcalfe (@harrym_evo) October 15, 2013
I didn't need to use my mathematics degree to figure out that Morgan minus Morgan equals not Morgan @charlesmorganuk


— William Graves (@wintergraves) October 16, 2013
Sad to hear of the depature of @charlesmorganuk from @morganmotor I doubt it will be the same without a morgan at the wheel of the company


— Adam Higgs (@adamhiggs5) October 16, 2013
@charlesmorganuk Here's a message of support given the unseemly & un-English goings-on at 'our' quintessentially English sports car company.


— Ian S Derbyshire (@iansderbyshire) October 16, 2013
Meanwhile, the @morganmotor board meet to discuss @charlesmorganuk and when nap time should be pic.twitter.com/Iw26p6LYMx


— Simon Gee (@simongee007) October 16, 2013
I don't believe we ever met @charlesmorganuk but all at @PistonHeads HQ love your cars and you too. Hope all works out sir. Ludicrous.


— Paul Garlick (@PaulGarlick) October 15, 2013
It says a lot when @charlesmorganuk has more twitter followers than @morganmotor #wrongdecision


— Adam Woods (@adwoods666) October 16, 2013
Charles Morgan not at Morgan is like Trevor not being at TVR....and we know what happened there!!


@charlesmorganuk @morganmotor #autopap

— AutoPap (@AutoPap) October 15, 2013
Charles Morgan is a beloved figure in the automotive world. Few automotive executives would get such a passionate level of support after leaving the company under shady circumstances. But then, Morgan isn't a normal car company.
This looks like just the tip of the ash-tipped frame in the Charles Morgan saga. Stay tuned.
Photo: Morgan