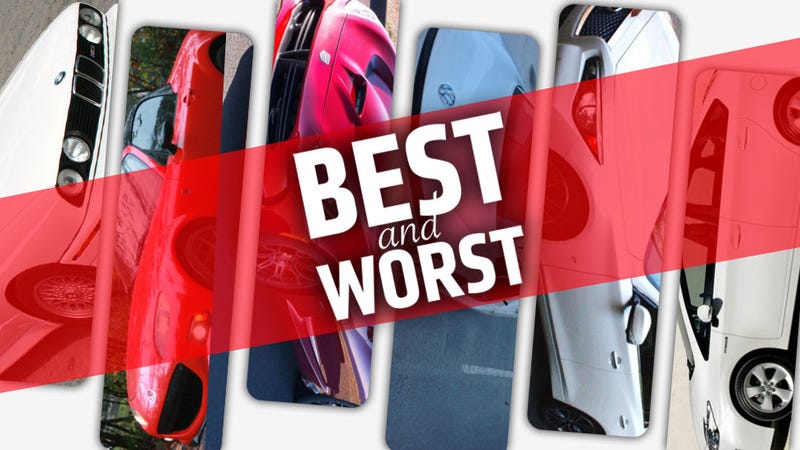 There's really only one way to know if a certain car is worth your time and money: drive it. And this year, I got to drive a whole lot of cars. Some were incredible, some were boring, some were terrible, some were terrifying. I'm happy to say I didn't drive any of them off a cliff. Go me!
I don't know if other auto writers do this, but when I drive a car I always ask myself this question: "If I had the money, and I was in the market for this type of car, would I buy this one?" The cars you're about to read about are the ones that made me answer "Yes."
Mostly, anyway. I'll elaborate in a second.
We only try to pick six best and worst cars for these things, and I had a tough time paring my list down because I drove a lot of truly great cars this year, like the Cadillac ATS, the Fiat 500 Abarth, the new Corvette Stingray, a 1967 BMW 1602 and the 1968 Dodge Charger R/T that Maté and I drove around Manhattan. But since I'm forced to pick just a few, these are the ones that rose above the rest.
But first, as I cap off my first year as a full-time Jalopnik writer, I'd like to say thanks to you fine people, our readers. Thanks for supporting us, commenting on our stories, showing up to our parties, offering tips and guidance that help us do our jobs better, and generally making this the greatest website in the universe. You guys are great. I will always be there to fight for your right to hoon.
Without further ado, here's my Best and Worst of 2013.
Best: 1988 BMW M3
Remember how I said our readers are the best people on the planet? I know this because sometimes they even lend their cars to us to review. Reader Battery Tender Unnecessary was crazy enough kind enough to let me drive his E30 M3 earlier this year, giving us a great review of a universally loved performance car and fulfilling one of my lifelong dreams.
The E30 M3 is fantastic in every single way. It's both civilized around town and deeply challenging and rewarding on back roads or a track, all while offering a surprising degree of modern conveniences. Easily one of the best cars I have ever driven, hands down.
Best: 2014 Mazda MX-5 Miata Club Edition
Of all the cars I drove this year, the Mazda Miata is the one I'd be most likely to buy for myself. I say that for a number of reasons, including its amazing handling and gear shifter, its sports car purity, its price tag, and most importantly, how it made me feel when I was behind the wheel.