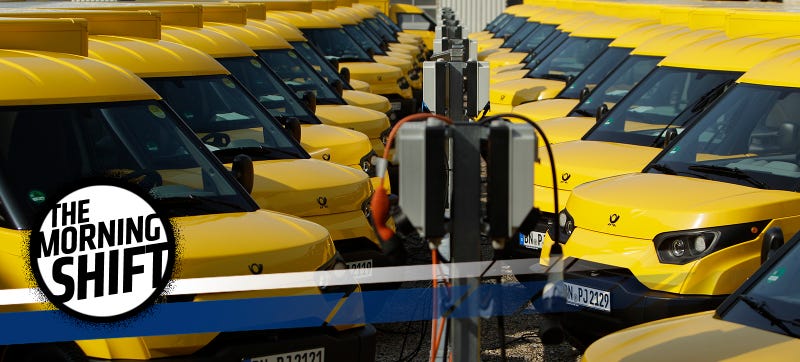 Good morning! Welcome to The Morning Shift, your roundup of the auto news you crave, all in one place every weekday morning. Here are the important stories you need to know.

1st Gear: A Quarter Of The European Market Is SUVs Now 

Today is a day of great reversals across the world of the automobile. For as long as I've been alive, Europe has been the holy land for American car dorks. American dweebs who've hated the hulking big SUVs and trucks that lumber across our landscape could always look to dainty Europe, which was full of spritely hatchbacks and little wagons.
Now this, too, is changing, as 25 percent of the car market in Europe has gone to SUVs, as Automotive News Europe reports:
European demand for SUVs and crossovers of any size and price showed no signs of slowing last year, which is why the models benefited disproportionately from the region's better-than-expected sales in 2016.

Combined sales of models that included the Renault Captur, Nissan Qashqai, BMW X1 and even the aging Volvo XC60 increased 22 percent to nearly 3.8 million units, according to data from JATO Dynamics. That rise easily outpaced the overall market's 6.5 percent increase to 15 million.

We in America might look at a Captur and laugh that it's no more an SUV than a Dodge Caliber, but things look different on smaller European streets. I will be in Germany shortly, and will personally weep beside all of the new crossovers I see over there.
2nd Gear: Trump's Having A Hard Time With This End Emissions Regs Thing
Last week, Trump proudly announced that "the assault on the American auto industry is over," and we were finally going to get emissions regulations that matched the meaty goodness consumers want (beep beep) and not the gross vegetables that the dunderheads at the EPA think America should be eating.
But no matter what Trump has in store for the EPA's federal regs, there will still be regulatory pressure on carmakers to build cleaner, more fuel efficient cars, as Automotive News reports. The first hurdle comes from California and its partner states, which are staying dead-set on tougher regs no matter what goes on at the federal level:

Despite what the EPA may want, California and nine other states in the Zero Emission Vehicle program — eight in the northeast, plus Oregon — are expected to move ahead on Friday with the previously established targets.

Those states account for nearly 30 percent of U.S. auto sales.

And international regs will also keep American carmakers honest:
Kristin Dziczek, director of the Center for Automotive Research's labor and industry group, said U.S. automakers could find it hard to export cars to markets such as China and Europe with tougher regulatory regimes if the U.S. targets were rescinded.

"I don't think we're going to see a rollback," she said. "At most, I think we may see a slowing of the timetable" for implementing the tougher standards.

3rd Gear: Daimler Is Getting Investigated Over New Suspected Diesel Cheating 
For years now, carmakers in Europe have largely been getting away with emissions cheating through a loophole in EU law.