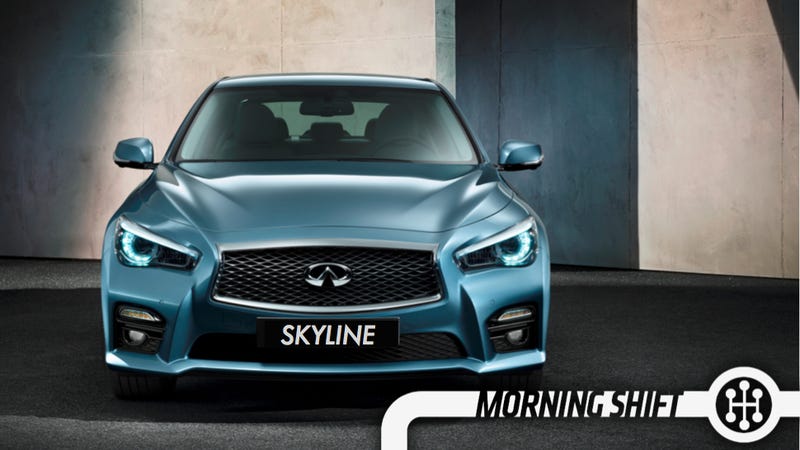 This is The Morning Shift, our one-stop daily roundup of all the auto news that's actually important — all in one place at 9:30 AM. Or, you could spend all day waiting for other sites to parse it out to you one story at a time. Isn't your time more important?
1st Gear: A Skyline By Any Other Name...
About 24 years ago, Nissan launched a luxury brad in the U.S. by the name of Infiniti (with an "i" instead of a "y" for some reason). They got a British guy to talk it up so we'd all think of it as European luxury, even though they were Japanese cars built for American audiences.
Fast forward a generation and Infinti is making a global push, which means trying to bring their cars home to Japan, despite hiring a German luxury car exec and moving the company's headquarters to Hong Kong.
What moving to Japan actually entails, as HANS Greimel explains, is taking the Nissan Skyline sedan they typically sell in Japan (known here as the G-Series and now as the Q50-series) and merely calling it the Skyline, by Nissan Motor Company.
Whaaa?
Also, they're taking the Infiniti badge and putting it on the car.
"We have a huge ambition for the Infiniti brand," Palmer said. "We have to treat Infiniti, if you will, in the same [way]that Volkswagen treats Audi. It's not a Nissan-plus. Infiniti has to stand head-to-head with any of those German competitors."
So, Infiniti won't just be rebadged Nissans, although in this case it'll be exactly a rebadged Nissan.
2nd Gear: Gotta Good Job? You Getta Car
We've written about the subprime car loan business before, because a decent portion of car buyers fall into the "imperfect" credit category.