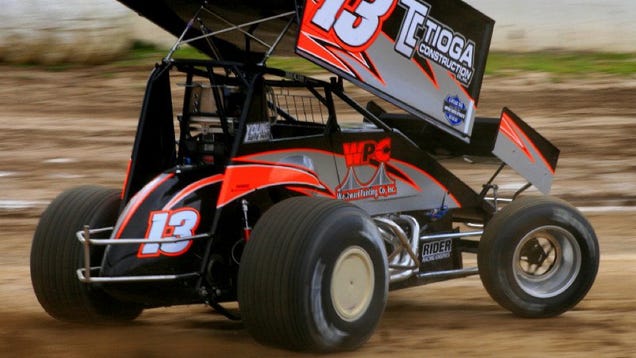 Sprint car driver Kevin Ward, Jr., was killed in an incident at Canandaigua Motorsports Park involving former NASCAR champion Tony Stewart last night. The wider sports world is still in shock, but the world of NASCAR is reeling from not only a death, but the actions of its own.
Law enforcement and other investigators are still meting out the details of exactly what happened at the track, so it is a bit premature to apportion blame in what was clearly not a cut-and-dry accident. But the racing community is torn apart, with many, including Casey Mears and JJ Yelley simply re-tweeting the words of NASCAR chaplain Kenny Crosswhite:
Words can rarely express deep Sorrow or Ease pain of a sudden loss..Overwhelmed w sadness...Asking God 2 give Comfort & Guidance

— Kenny Crosswhite (@Kenny_PMCLife) August 10, 2014
Dale Earnhardt, Jr., who has clearly faced an unexpected and personal loss in his life:
We will all loose someone in our time. When a loss is sudden and unexpected, the pain & sadness is suffocating. Prayers for the Ward family.

— Dale Earnhardt Jr. (@DaleJr) August 10, 2014
Brad Keselowski is looking for answers, like most of us:
Very little info, and I wasn't there, How can I have an opinion? @honeyboner1980: curious 2hear what u drivers think of @tonystewart

— Brad Keselowski (@keselowski) August 10, 2014
Many are just expressing their condolences:
As I head out to the car my thoughts and prays are with the Ward family

— Greg Biffle (@gbiffle) August 10, 2014
Racing with a heavy heart today... Thoughts and prayers for the Ward family.

— Jimmie Johnson (@JimmieJohnson) August 10, 2014
My thoughts and prayers are with the Ward family.

— Michael Waltrip (@mw55) August 10, 2014
Many, including Ryan Truex and Keselowski, are re-tweeting pleas for everyone to hear exactly what happened before accusations are thrown. Others are simply staying silent.
We'll update you if we hear more.
UPDATE: And the account of NASCAR itself just couldn't help but sum up the organization in one tweet:
With heavy hearts, we turn our attention to today's #CheezIt355. #NASCAR Countdown begins now on @ESPNNASCAR.

— NASCAR (@NASCAR) August 10, 2014
Um.
Photo credit: kevinwardjr.com