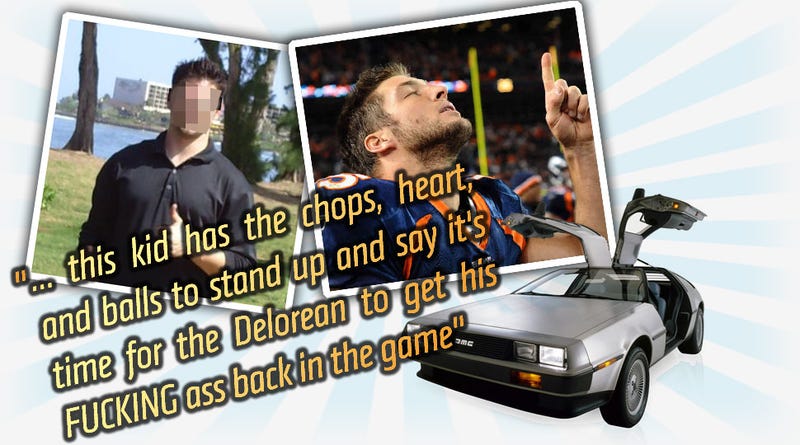 Supposedly, you can't get something for nothing. But what if you wanted that something really badly? What if you offered access to "hot bitches" to get it? What if you kissed unbelievable amounts of ass in your quest? And most importantly, what if you knew Tim Tebow in high school?
All of this and much, much more gets offered by a 26-year-old "boy" (we'll get to that in a minute) who recently emailed the reborn DeLorean Motor Company because he wants one of their cars — with or without a flux capacitor — at a discounted price.
So the young man wants a deal on a DeLorean. Who wouldn't want to drive one? He doesn't say how much of a price break he wants, and heavily implies that he should simply be given one as part of some kind of magical "pay it forward" scenario.
But none of that does his email justice. The message he sent is such a perfect combination of stupidity, entitlement, misogyny and dudebro-ism that it feels as if it was handed down to us from the Internet gods themselves.
We've done this young fellow a favor by redacting his name and email address. But we'd be doing the world a disservice if we didn't parse through the email he sent to DMC, one bit at a time.
Prepare yourselves. You're about to see some serious shit.
I just searched for Deloreans in Florida and I came across you Gentlemen. Let me open by saying I'm a 26 year old boy who has the utmost respect for nostalgia.
A 26-year-old "boy"? Really? I can already tell this isn't headed anywhere good...
One of my favorite films is Back to the Future and im not sure if you gentlmen bought your cars pre or post Marty McFly but i can tell you it doesnt matter because the Delorean is fucking awesome either way. Let's cut to the chase, im hoping one of you is a very wealthy man who doesnt mind parting with their Delorean for a tad less than price,
Yes, the DeLorean is "fucking awesome." We would agree. As you all probably know, DMC restores and reproduces these iconic cars for resale. Some of the cars in their current stock go for about as low as $31,000, which seems like quite a bargain considering all the work that goes into them.