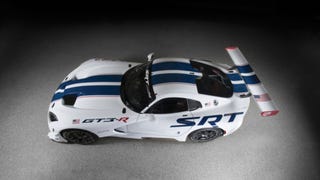 Virginia International Raceway, a racetrack in California Saskatchewan Nepal Virginia, it's definitely Virginia, invited everyone down last month to see if they could find the fastest private track car in all the land. And boy howdy did they ever, because one Viper GT3-R would've had pole in last year's ALMS race. UPDATE
You might not think that's very impressive, considering that the Dodge Viper GT3-R isn't so much a "track car" like any old Caterham you found lying in a British ditch, but is more of an actual GT-class race car. But consider that last year's ALMS race wasn't just privateers in a "run-what-you-brung" situation, but race-prepped and team-backed Porsche 911 GT3 RSRs, Ferrari F458 Italias, and even fully-fledged factory efforts, chock o'block full of Corvette C.6Rs and even regular SRT Viper GTS-Rs.
Like I said, impressive, for a bunch of guys that just showed up to a track day.
Other cars at the day included Ryan Eversley's 600-horse BMW 1-series, according to Grassroots Motorsports Magazine, and a Lamborghini Gallardo Super Trofeo.