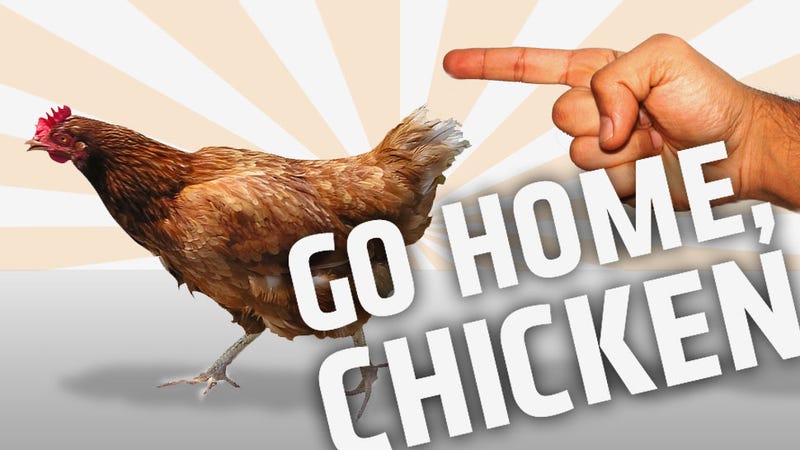 Quick, what do potato starch, dextrin, brandy, and a smallish pickup truck have in common? The makings of an amazing weekend in Vegas? The contents of Godzilla's stomach after a really weird bender? Close. Those are the things slapped with a 25% tariff known as the Chicken Tax, and it's killing innovation in the truck market.
Everything about the Chicken Tax is weird. You may notice that the list of items the tariff includes is suspiciously free of chicken for something known as the "chicken tax." That's because the tariff is in retaliation to other countries (France and Germany, mostly) that put a tax on American chicken. In 1963.
I'll explain. See, after WWII, the US found that we'd become really good at factory farming, and as such could really crank out some chickens, at rates never before known. Around this time, chicken was a rare delicacy in Europe, which is hard for my chicken-saturated American brain to comprehend, but that's how it was.
Once cheap American chickens came on the market, everything changed. Chicken prices plummeted, and European chicken-gorging reached new heights. This started rounds of accusations — the Dutch claiming chickens were being dumped on the market below cost, the West Germans going all the way and suggesting American chickens were artificially plumped with arsenic (some sort of were), it was a mess.
Eventually, it all ended with a bunch of import restrictions on American chickens into Europe, causing a 25% loss of business for US chicken exporters. This pissed off the US so much that a senator from Arkansas once even interrupted a NATO conference about nuclear armament to complain about chickens. We were pissed.
So pissed that, in 1963, the tariff on potato starch, brandy, dextrose, and light trucks was added. I can't speak for the first three (maybe check Gawker's dextrose-and-sugars-related blog, Sweetly, for that) but the light trucks thing was a direct 'fuck you' to West Germany via Volkswagen.
The tariff added a 25% tax to the price of the trucks, meaning that the VW Type II pickups, double-cabs, and cargo vans that had started to become popular in the US were now all but priced out of the market. The Microbuses with seats and windows were classified as passenger cars, and as such weren't affected, but for any foreign truck maker, this was the end.