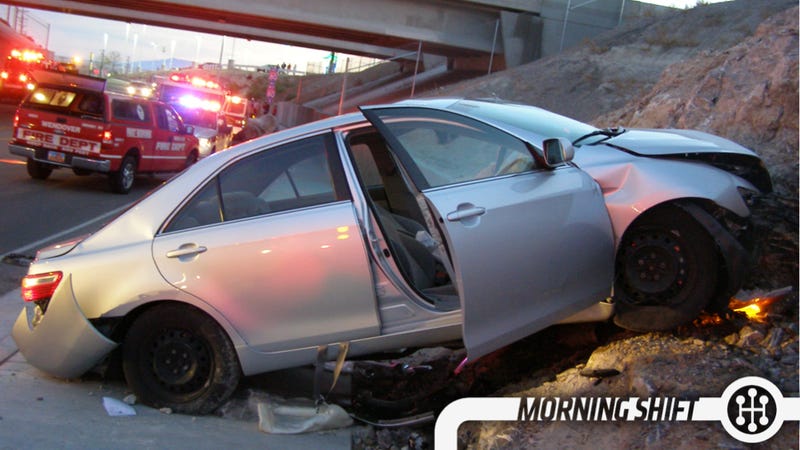 This is The Morning Shift, our one-stop daily roundup of all the auto news that's actually important — all in one place at 9:30 AM. Or, you could spend all day waiting for other sites to parse it out to you one story at a time. Isn't your time more important?
1st Gear: Is Toyota Going To Win All Its Cases?
The AP thinks the first jury verdict in a Toyota-versus-everyone-killed-by-Camry case might be a bellwether, and the news is good for Toyota.
It took about five days of deliberation, but a jury found that Toyota wasn't at fault for not installing a brake override system. Rather, they found the octogenarian behind the wheel who ran the stop sign who killed a woman was at fault.
That makes perfect sense and appears to be the model for all of these cases: The Old Person Did It.
2nd Gear: E'rbody Wants A Corvette
The 2014 Corvette is a hit, which should surprise absolutely no one, despite not being in every dealership.
From The Detroit News we learn that about 950 dealers got the Corvette first and, on average, they stay on the lot for no more than five days.
It'll be a month before the other 2000-or-so dealers can start ordering them. Hilariously, one of the new owners reporter Melissa Burden found was none other than Ken Lingenfelter, who bought a cyber-gray metallic Stingray. Can't wait to hear what he does with it.
"It's a winner," he said of the seventh-generation Corvette. "It's got style, comfort, a lot of new electronics. The interior is much upgraded from what it was. The way it handles on the race track is very, very good."
3rd Gear: The 2014 Cherokee Uprising
There are so many ways to refer to the new Jeep Cherokee. Bloomberg calls it 'Turducken-like' in their report over the response.
The look created an uproar when it was unveiled earlier this year. Chrysler explained it intentionally crafted a design to elicit love-it or hate-it reactions to make some noise.
Clearly, it worked.
4th Gear: What To Do About The UAW
Another WSJ story on the ongoing UAW/VW issue in Chattanooga, where we learn VW is apparently split about how to proceed.
As you'll remember, the UAW wants to help VW enact a "work council" like the kinds they have in Europe. VW wants it, too, and is required by law to use an outside organization like the UAW.