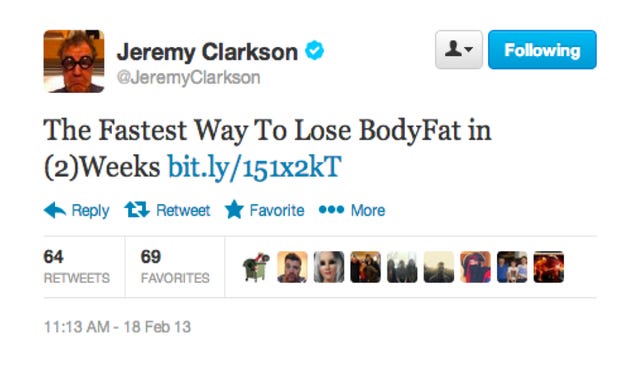 Burger King isn't the only Twitter account with a problem today. Jeremy Clarkson, Top Gear host and cantankerous Brit, has had his Twitter account hacked. Now he's vowing revenge.
Clarkson's tweet promised he had "the fastest way to lose bodyfat in two weeks." Of course it's from those geniuses that market some sort of Acai Berry supplements, a berry that can apparently help you lose tons of weight somehow that hasn't been proven by anyone anywhere.
Jeremy has never been known for shying away from a debacle, so now he's getting his next move ready against the spammy hackers.
I have been hacked by spammers. Luckily I have acquired a special set of skills over many years. I will find them. And I will kill them.

— Jeremy Clarkson (@JeremyClarkson) February 18, 2013
We'll take him at his word.
(Hat Tip to @jdotfield!)