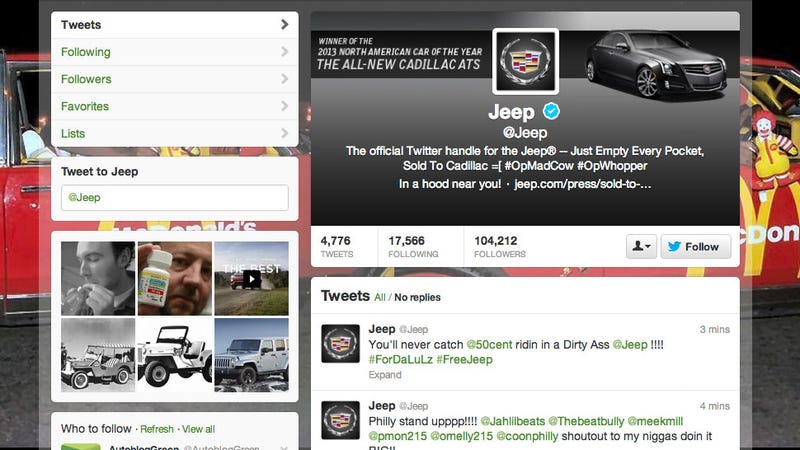 Yesterday Burger King turned into McDonalds. Today, Jeep has become Cadillac. It's a bad week to be on Twitter.
In what appears to be something very similar to yesterday's Burger King hack, Jeep is now saying they were taken over by Cadillac. Looks like most of the tweets coming out of Jeep's new account are quite interesting.
You'll never catch @50cent ridin in a Dirty Ass @jeep !!!! #ForDaLuLz #FreeJeep

— Jeep (@Jeep) February 19, 2013
Sorry guys... no more @jeep production because we caught our CEO doing this... twitter.com/Jeep/status/30…

— Jeep (@Jeep) February 19, 2013
Jeep is gaining hundreds, if not thousands of followers from the hack, much like Burger King did yesterday. We're not sure who is behind it, but it is either the same people that hacked the BK account or some similar copycat that isn't quite as creative.
The tweets also aren't flowing as quickly as they did yesterday, so maybe this one is already getting shut down.
UPDATE: Jeep's Head of Jeep Brand Communications Todd Goyer told us "We're aware of the issue and are working to resolve it as quickly as possible."
It appears that the Twitter might actually be getting back to normal and no longer running super wild. The Cadillac background has been removed and we haven't seen a tweet in nearly 20 minutes. It does still have the Caddy crest though.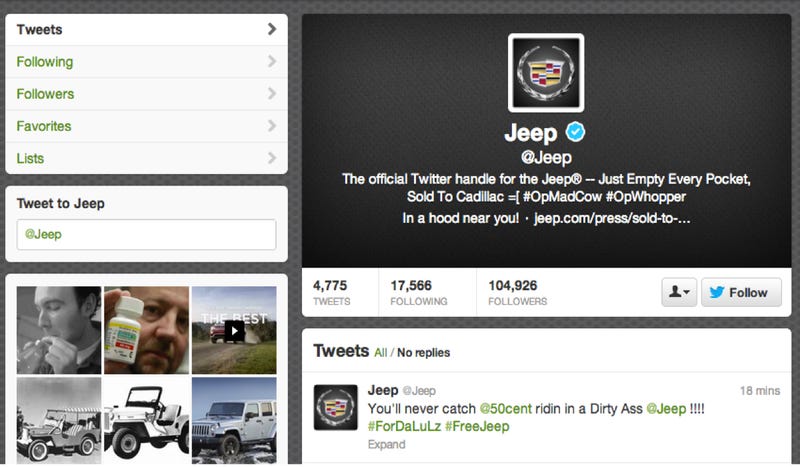 UPDATE 2: Our friends at Gizmodo noticed this one:
February 19, 2013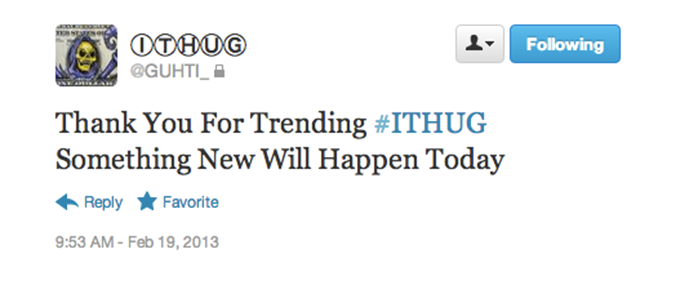 It seems quite possible that this ITHUG could be behind both the BK hack and the Jeep hack. Why BK and Jeep were chosen, well, we may never really know.
UPDATE 3: Cadillac says they WEREN'T behind this. Thanks for clarifying.
Just to clarify, Cadillac is not connected to the hack of the @jeep Twitter account.

— Cadillac (@Cadillac) February 19, 2013
@cadillac quit lying, we know it's you. @jeep

— Anonymous(@CIApressoffice) February 19, 2013
Ralph Gilles isn't impressed either:
"@screenmaster5k: might wanna tell the Jeep guys to check their Twitter..." Thanks, they know, petty people these hackers a waste of skill!

— Ralph Gilles (@RalphGilles) February 19, 2013
Update 4: I asked the alleged hacker on Twitter if the pot references had anything to do with the Jefferson North workers toking up. Here's what I was told: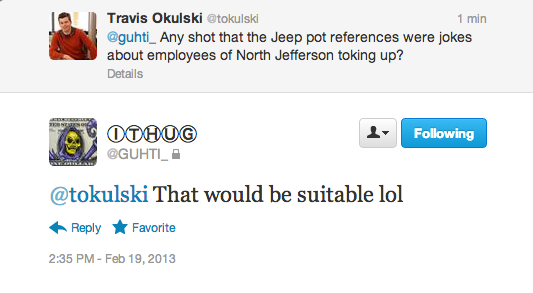 UPDATE 5: It looks like the hacker could be this DJ from New England. ITHUG's Twitter profile has now been suspended.
UPDATE 6: Jeep is back to normal, except they now have a few thousand more followers. Resume normal service.

UPDATE 7: Jeep's social media team put out tips on how not to get hacked... 15 minutes before they got hacked.