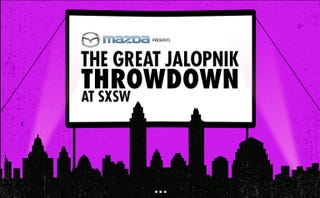 If you're in Austin tonight, there's only one place you should be, and that's The Great Jalopnik Throwdown at SXSW. We're going to talk autonomous cars, we're going to talk the future of driving, we're going to hang out, and we're going to listen to killer music. What's better than that?
Nothing, obviously.
The folks at Mazda were kind enough to throw in for this throwdown and I can personally guarantee you a fun time will be had by all.
Here's your reminder that the event is tonight, from 6-10 p.m. at the Hype Hotel, 1100 E 5th Street.