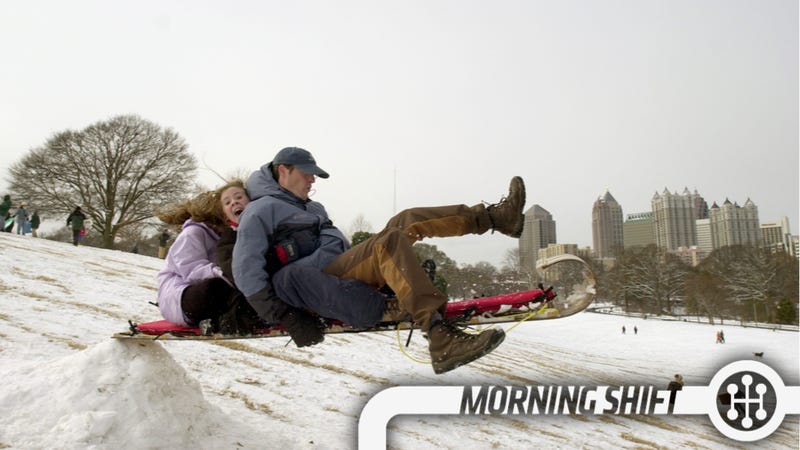 This is The Morning Shift, our one-stop daily roundup of all the auto news that's actually important — all in one place at 9:30 AM. Or, you could spend all day waiting for other sites to parse it out to you one story at a time. Isn't your time more important?
1st Gear: Car Sales Flat Last Month
J'accuse mother nature!
After a strong run of growth for the last few months, the cold weather again hampered car sales as it was too cold for anyone to sell a car in a lot of the country.
My favorite explanation of this comes via Bloomberg:
"We literally have vehicles frozen to the ground," said Martin, general sales manager of Berlin City Auto Group in Gorham, which sells Ford, Dodge, Chrysler, Honda and Toyota models. "We needed five guys to cut a Corolla out of the ice so that a customer could buy it."
GOD WAS TRYING TO SEND YOU A MESSAGE. BUY A FOCUS ST INSTEAD.
How bad was it? They sold about 1.01 million cars/trucks last month, which puts SAAR — the seasonly adjusted annualized sales rate — flat at 15.2 million (analysts are looking at a SAAR between 15.5 and 16 million for the year).
Winners and losers abound, but mostly losers (full chart here).
Chrysler was up, again, as people started buying Fiats and Chryslers again. Also, when it's freakin' cold outside and your neighbor's Fusion is upside down in a ditch that Jeep starts looking mighty nice. The same goes for Subaru, which continues to grow and may really hit 500,000 cars this year. Nissan outsold Honda with a 12% increase and a record for January, including a big upswing at Infiniti. Hyundai was also just barely up (they also do well on the coast).
Ford and GM were both down 12%, with the only positive not being Lincoln — proving that all Lincoln buyers still live in Florida. Honda was down -2% but Acura did well, so that's something.
The one truly hilarious stat is Maserati, which was up 230%. Granted, that's just 567 cars. Jaguar was up 31% to 1,347 cars. Still… 230%!!!!
2nd Gear: Toyota's Profits Up 5X, Because DREAM!
Just like we told you last week, Devauled-Yen Rules Everything Around Me (DREAM!). We were talking about Honda, but today's news out of Tokyo has Toyota up 5x it's third quarter (our fourth quarter) profits.