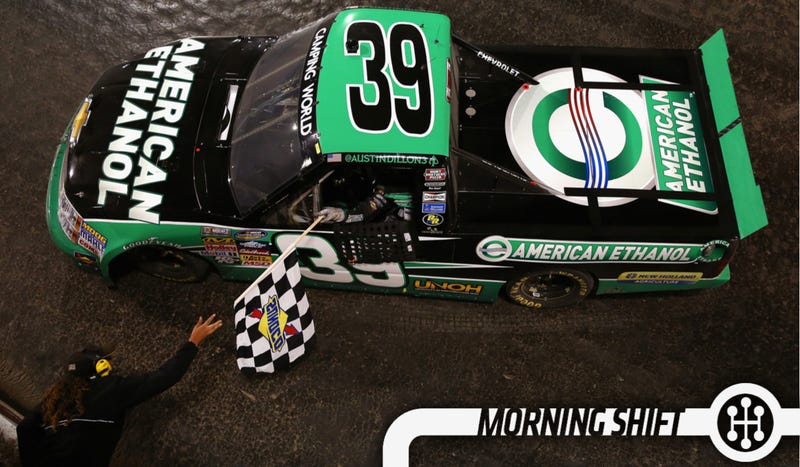 This is The Morning Shift, our one-stop daily roundup of all the auto news that's actually important — all in one place at 9:30 AM. Or, you could spend all day waiting for other sites to parse it out to you one story at a time. Isn't your time more important?
1st Gear: The Case Against Ethanol
The pro-Ethanol lobby seems to be stronger than the anti-Ethanol lobby, which seems to be made up largely of car companies — who don't love the idea of people shoving E10 (i.e. fuel made with 10% ethanol) down their fuel holes, and loathe the idea of what havoc E15 might bring.
We know this, because the EPA approved E15 for use in vehicles newer than 2001 and the Alliance of Automobile Manufacturers couldn't stop it. Here's what they told David Shepardson:
The government rushed to approve the fuel, she said: "EPA approved an E15 waiver before sufficient testing was completed to gauge the cumulative effects of this more corrosive fuel. Ethanol can permeate and degrade rubber, plastic, metal and other materials in vehicles not designed to handle it."
So far, he reports, only Ford, GM, and VW have approved E15 for use across their newer cars. Chrysler and other car companies warn E15 use could lead to voided warranties.
The AP goes even further to point out the potential environmental impact:
Sprayers pumped out billions of pounds of fertilizer, some of which seeped into drinking water, contaminated rivers and worsened the huge dead zone in the Gulf of Mexico where marine life can't survive.

The consequences are so severe that environmentalists and many scientists have now rejected corn-based ethanol as bad environmental policy. But the Obama administration stands by it, highlighting its benefits to the farming industry rather than any negative impact.
Bottom line: Know what you're putting in your tank.
2nd Gear: Diesels Are Pretty Cool Though
In the battle of plug-in versus pour-in, there's been a nice move towards pour-in with California and others considering a move towards leveling the playing field for all sorts of alternative fuels.
For the last decade, it's been all about the plug-in, whether electric or hybrid, with a negative view of fuel cells and a longstanding anti-diesel bias. This kind of technology-neutral view is good for more automakers and for consumer.
As Bloomberg reports, the one group tho might hurt is Tesla, who gets Zero-Emission Vehicle credits for ever Model S it gets.
If those credits can be used for the technologies, that would reduce the amount of money automakers would have to pay to Tesla.
3rd Gear: Mazda's Auto-Brake Test Brakes
We've seen auto-braking tests fail before, so it's not entirely surprising that a Mazda CX-5 being test-driven at a Mazda dealership in Japan plowed into the barrier designed to show off the system for prospective buyers.