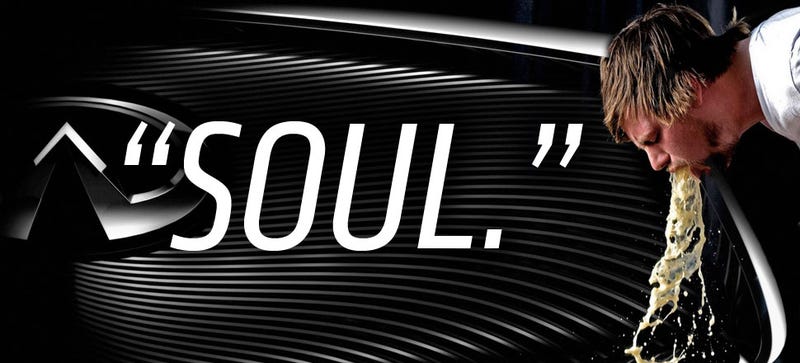 Have your preferred vomit-spitoon handy? Is your valet at the ready to empty it, post-haste? Good, then you're ready to read the latest pre-Paris Motor Show press release from Infiniti. You also may want to connect some belts to your eyes to harness all the energy you'll make as you roll them.
Here's the full text of the press release, and the associated photo:
HONG KONG – Style and substance that push any preconceived limits.

Soon, Infiniti will share a vision – its soul – on a scale not seen before from the company.

For now, this. For more −

À bientôt.
I know, right? Take a moment to rinse your mouth out and collect yourself — I won't mind. I'll be busy trying to figure out how to transmorgrify a bunch of characters on a computer screen into an actual human face I can slap.
This sort of precious, breathless, overwrought crap is the exact same sort of thing that's been plaguing Infiniti — and, really, almost every Japanese luxury car maker — since their beginning. Lacking the long, rich histories of their competing brands, most notably Mercedes-Benz, who has been producing cars for about a century longer than Infiniti, the recent luxury marques have always sought to give themselves instant gravitas by using the word "soul" until you want to retch and making some really, really pretentious commercials.