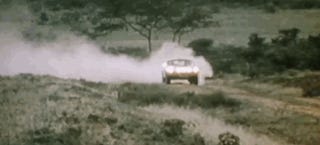 What does it take to make a Porsche 911SC into a rally car, capable of running the East African Safari rally? Not much, apparently. All it took was some rear-suspension upgrades, extra body protection, additional front lights and a Martini livery.
That was good enough for this car to place 2nd in the 1978 East African Safari Rally, only loosing the lead a few hours from the finish line when it hit a rock, damaging the suspension.
When I first drove an air-cooled 911, I was struck by how versatile the car was, and this rally car further proves that point. In 1978 you were equally likely to see a 911 charging down the Mulsanne Straight at Le Mans, as you were on rally stages of Africa. Quite an impressive feat.