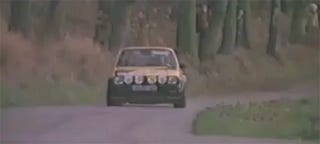 Today every top-level rally car comes with a handbrake to help turn into a corner. Back in the day, drivers had to rely on momentum. Here's how they did the 'pendulum turn.'
It's very much a 'you gotta turn left to go right' sort of situation. The basic principle (first figured out by Scandinavian drivers who took over the rally scene in the '60s and '70s) is to get the weight and momentum built up on the wrong side of the car, then snap all of that potential energy the right way around a tight turn.
Check out this vintage clip dug up by the great Axis of Oversteer for a video demo.
As you can see, the Opel Kadett and Lancia Stratos drivers approach this sharp right hairpin already turned to the left. They then flick back over to the right, and the car swings around like a pendulum. All they have to do is countersteer through the ensuing slide and they're fine.
Back when I spent a day at rally school we learned this technique in a front-drive Fiesta and I found out that the principle of a pendulum turn might be simple, but actually processing it in the moment is insane.