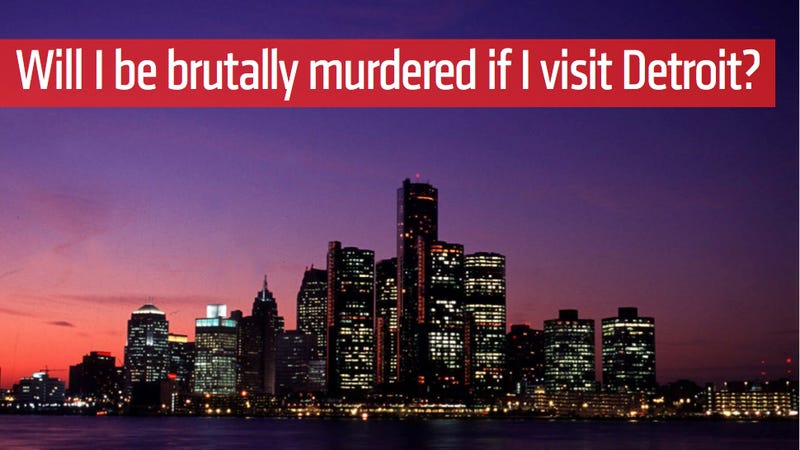 Do you have a bunch of questions about Detroit that you were too afraid to ask? It's fine, we'll always try to answer them in the best way we know how.
If you're from Detroit and you tell people you're from Detroit, this might have happened to you in the last two months: You get a pause, a brief stare and a "what's it like?" in a low voice.
I get it. A lot. I get it from people who live just across the Eight Mile border and I get it from people in other parts of the country. I don't mind answering "what it's like" at all, but lately I do find myself wondering if I always say the right thing.
I travel a fair amount for my day job and a recent trip took me to sunny California, where I happened to meet a bunch of great colleagues (including a hot and heavy moment in the backseat of a Lotus Evora with Autoweek's Blake Z. Rong, and by "hot and heavy" I actually mean impossibly cramped and hopeful of warding off a severe spinal cord injury). Naturally, the Detroit conversation came up quite a few times over the course of the trip.
Honestly, I get nervous talking about Detroit. For one, you're asked to provide a lot of information off the top of your head. I'm a Detroitophile, I know a bit. But in casual conversation, you have to be brief, be informative and be authoritative.
But even then, I'm human. When someone asks me "what it's like," I usually take a deep sigh and start with an exasperated "well..." Because living in a broken city that's also your hometown takes a lot of patience and compromise.
So here are the questions I get the most. This is usually how the conversation goes. It's lots of anecdotal observation mixed with hard facts, but it's also my own vantage point. It's not meant to convey how everyone in Detroit feels; we're not a monolith. But I wouldn't be surprised if other people say the same.
What's it like to live in Detroit?
It's not bad. Really. Things could always be better...
Is the city going to come back? and/or But the city's coming back, right?
It'll come back, but I'm not sure it'll come back in my lifetime. But then again, let's define "comeback." Does comeback mean 2 million people have to live here again? I think 700,000 is quite enough. I can never say I live in a small town, y'know? Does comeback mean a comeback of the Big Three? I think that's been established for a while, but things haven't really changed in the city all that much. Really, I'm not necessarily rooting for a "comeback." I'm just trying to make my way here, y'know?
Do you live in downtown/"the Midtown?"
(I get this every single time.) No.
So where in Detroit?
The west side. Four fingers up, two twisted in the middle.
Why not downtown/"the Midtown?"
We're dog owners, so we needed a backyard. We'd also like to own a house without having to sell our bodily organs for our mortgage. A garage is a must. And besides, Detroit is 139 square miles. The world doesn't revolve around Midtown. And not every guy under 30 wants a loft with exposed brick walls and shit. Sometimes you just want a roof over your head and a place to plant some daylilies. Detroit has plenty of neighborhoods that offer just that.