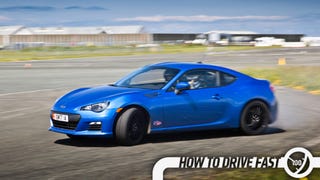 There is something lovely that, sadly, most racecars lack. It's called an emergency brake and mastering the use of it will make you a master driver. Here's how to do it. And as an added bonus, here's what happens when you put a NASCAR driver in a rally car.
I'm a NASCAR driver and I've been paid to drive racecars since I was 18 years old, which includes numerous racecars ranging from Formula cars to USAC Midgets and stockcars, I've even raced on dirt.
Therefore, I believed that there is nothing in a car I had not done or could not do. Well, I was wrong. There's one thing that none of the above race cars ever offered me a chance to do and its using something that, sadly, most road cars are slowly losing as our cars get more and more automated. It's a beautiful hand-sized lever that might be a plastic mold in a cheaper car or a beautiful leather-wrapped and stitched perfection in an expensive one. This intrinsic lever is known as the Emergency brake or E-Brake for short.
The E-Brake is to the car guy what the triple-layered chocolate cake covered in ice cream is to the 21-year-old college sorority girl with societally reinforced body issues. It's our guilty pleasure, only used when we can find that empty parking lot devoid of cops, or stupidly in front of girls thinking a tire screeching, smoke-shrouded halt is going to make their clothes fall off. A word to the wise, it doesn't. She's far more interested in the cake, because she can only take so many skinny lattes, skinny popcorns, and stupid boys vying for her attention. (You want a girl? Buy her chocolate cake).
You will probably more likely end up wrapped around pole, or slamming into the girl with your car, which is not the kind of slamming you were probably... oh nevermind.
Now back to the instruction! I was recently in the Isle Of Man, covering a Subaru attempt at a world record, with three time British Rally Champion, Mark Higgins. So when he wasn't putting a Subaru through its paces, he was at a large airport, instructing journalists how to do a E-brake turn.