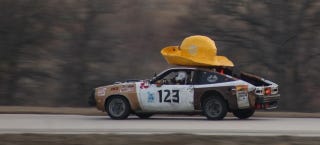 Whether you're entering a series that encourages creative team themes or not, you've still got some basic accoutrements to add to the outside of the car before it's ready to race. Here's how to add things that hopefully won't fall off your car.
Crapcan series usually have a pretty good sense of humor. If you've always wanted to dress a Trabant up like Peter Cottontail or run around in an E30 dressed up as a DTM car, this is the place to do it. Even though the 24 Hours of LeMons is the series best known for themes, a well-dressed car will get positive attention regardless of where it runs.
That being said, keep in mind that it's a family show. People bring their kids to watch. If you're out to create something that kind of skirts the line of good taste, make it either something really nerdy (e.g. an Impreza dressed up as an Evo) or phrase/display it in a way that would fly over the younger audience's heads. Be punny. Go for double entendres. Cleverness = win.
Some of what you do will be dictated by car choice. Norfolk & Chance, for example, is a car that perennially gets tossed into LeMons' Class A, where the owners felt like it didn't have a shot at winning. Some will also be dictated by series choice. ChumpCar and some of the other series that take things a little more "seriously" have stricter rules on securing decorative items to the car, plus every series has certain rules on number size and format.