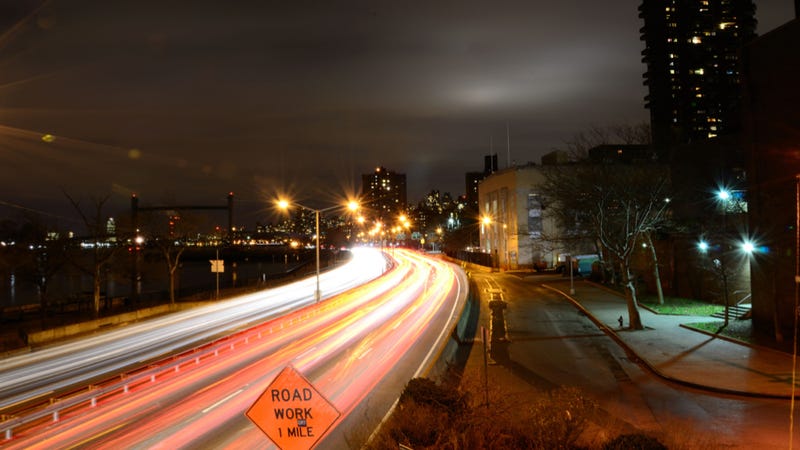 To say Europe was in ruins after World War II would be using understatement. Cities were destroyed. Villages were obliterated. Societies themselves would take decades of rebuilding. Out of all that rubble, though, emerged one road in New York that's often overlooked: the arterial FDR Drive.
For those who don't live in New York City, and I can't fathom any section of humanity that doesn't, Franklin D. Roosevelt East River Drive isn't so much like every other Len Drive or Green Drive or whatver suburban -Drive you want to think of, but it's more like a highway.
On the tight, squirming lanes that snake their way down the east side of the island of Manhattan, regular drivers fight to maintain position with taxis, and insane motorcyclists splitting lanes, and even the occasional pedestrian seriously trying to cross a goddamn six-lane highway. It would almost be exciting, if you had a death wish and yearning desire to pay oodles a month in car insurance.
Yet those thousands of cars each day drive on top of pure history.
To learn the story of one of the main highways of Manhattan (specifically the 11-block section from 23rd street to 34th that the history I'm talking about concerns), you need to learn the history of Europe. Well, not all of it, really, just a six-year span. (Hint: it's World War II.)
World War II!
And really, we're not looking at all of World War II because that would be silly because you know that whole story by now and if you don't, God help you, go read a book. To narrow it down further, we're looking at the Battle of Britain.
And to narrow it down further than that, we're looking at the Battle of Bristol.
(Bristol! Photo credit Robert Cutts)
If you examine the photo above not very closely at all, you'll notice that Bristol isn't like many European cities, without very many grand cathedrals and whatnot. That's because the Nazis absolutely destroyed them.
Bristol was a major British industrial center during the war, home to both Bristol Harbour and the Bristol Aeroplane Company. After the war, the Bristol Aeroplane Company had a little spinoff called Bristol Cars, which still has many fans today. But starting in 1939, BAC made the Beaufighter, one of the world's first true two-seater multirole fighter planes.