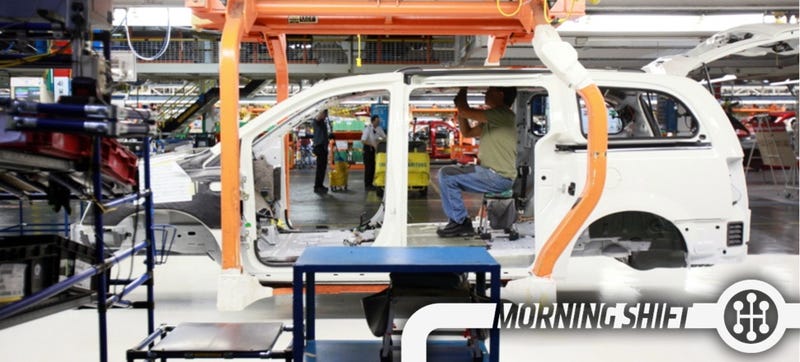 This is The Morning Shift, our one-stop daily roundup of all the auto news that's actually important — all in one place at 9:30 AM. Or, you could spend all day waiting for other sites to parse it out to you one story at a time. Isn't your time more important?
1st Gear: All Over A Minivan
Unless you're building weirdo one-off supercars, it's hard to have a car industry without a lot of other car companies around. You need a certain critical mass of suppliers and infrastructure to support mass auto production. Thus, the dominoes of the Australian auto industry that will lead to its demise in the next three years.
Could the same happen to Canada? Sergio Marchionne has been hinting that the next generation Chrysler Minivan could go almost anywhere, including leaving its WIndsor, Ontario home for Mexico or the United States.
There was even a demand on Chrysler's part for huge concessions out of the Canadians for a while. This led to a panic — mostly lost during the Geneva Motor Show — amongst some. Our Canadian pal Derek Kreindler penned an article stating an Australian-style death could be imminent. Twitter erupted with speculation.
Then, like an hour later, Fiat-Chrysler withdrew its request for extra funding and said they were going to update the Windsor plant for all sorts of production and explained why they weren't reaching for a handout.
"By definition every time you can do things on your own you are much freer to do what you think is possible," Mr. Marchionne said. "We will continue to monitor the environment to make sure Canada is competitive."
Hint, Hint, Hint Canadian Auto Workers.
Derek, for his part, I'm sure is relieved at this sudden turn of events and immediately acknowledged it. What this really shows is how totally weird this Fiat-Chrysler world is going to be.
2nd Gear: What Happens To The UAW?
There are going to be a lot more what next? stories as the UAW rebuilds from the failure in Tennessee. Here's one from Bryce Hoffman at The Detroit News.
Here's the nut:
Privately, senior executives at these companies say the UAW remains essentially the same union as the one that helped run Detroit's automakers into the ground with its demands for overly generous wages and gold-plated benefits.
3rd Gear: Chinese Automakers Want Western Respect
If there's one Chinese car company that deserves to be taken seriously, it's Qoros Auto, whose Qoros 3 aced safety tests and made everyone reconsider what the other side of the world can produce on its own.