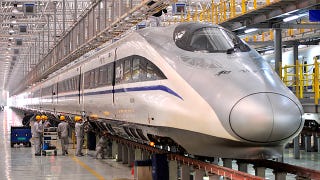 In China, the national high-speed rail system is fast, efficient, and transports twice as many daily passengers than the country's domestic airlines — the opposite of what happens here. Chinese airlines are complaining and provide a good lesson for U.S. operators: It's easier to embrace rail than fight it.
China's domestic "Big Three" airlines (Air China, China Southern and China Eastern) are publicly traded, but the government holds controlling stake. They have all reported significant losses ranging from 24 to 32 percent in 2013. Oil prices and competition form other low-cost airlines are obviously a factor, but airlines are starting to place blame on their streamlined land-based competitor — those sexy bullet trains.
The national rail system is part of China's growth strategy, where its airports are notorious for delays, long lines and poor customer service. Airlines require military clearance to expand their operations. As China Southern announced earnings results last week, it said: "The rapid development of high-speed railway and the evolution of low-cost carriers on the mainland will further intensify competition on domestic routes."
Here in the U.S. there's a slowly-growing movement supporting the need for a national high-speed rail system. The Northeastern Corridor has had Amtrak's Acela service between Boston and Washington, DC since 2000, but its average speed is just under 70 miles per hour due to the fact that it doesn't have an exclusive track on which to stretch its legs. Even at its potential top speed of 150MPH, it's slow in comparison to China's newest trains which can blaze past 300MPH.
Several proposals have been made for regional high speed rail systems in the U.S. but politics have gotten in the way. Lobbyists working on behalf of airlines have kept rail plans at a stand-still for over 20 years on a plan in Texas to have a rail system built between Dallas, San Antonio, and Austin.
It seems that people's favorite thing to do with airlines is complain about them, and those complaints are usually justified. From the moment you arrive at the airport, it's the long security lines, the intrusive searches of your belongings and your body. Next comes the delays related to maintenance, weather, or air traffic control. Trains could provide a huge relief to the air traffic snarls we see in major hub cities.
For airlines, the best thing to do would be to adapt to the times and support the change. Airlines wouldn't have to take the change lying down, but rather it would be an opportunity to invest in the future and broaden the reach of their brand. Airlines could start their own rail companies or contract it out the same way they do with regional planes. For example, imagine flying Delta Air Lines from Los Angeles to Atlanta, then hopping on Delta Rail Lines from the airport to somewhere like Charleston, South Carolina. The trains could be painted or decal-wrapped to have the same branding that Delta's air passengers are already familiar with, and every road intersection the train crosses would be an advertising opportunity. Unlike the government-controlled trains and airlines of China, U.S. airlines wouldn't have to suffer at the sake of the rail system if the rail and airline are owned by the same company.
Going forward, it seems the need for a more robust rail system is present here in the U.S. As major cities embrace light rail systems, commuters are getting used to the idea that it's okay to let someone else do the driving, while saving yourself the frustration of traffic, gas prices, and the wear & tear on your vehicle. So maybe it's a case of baby steps, in which we realize how great trains can really be, that will allow us to move forward and perhaps catch up to a place where many other countries already have us beat.