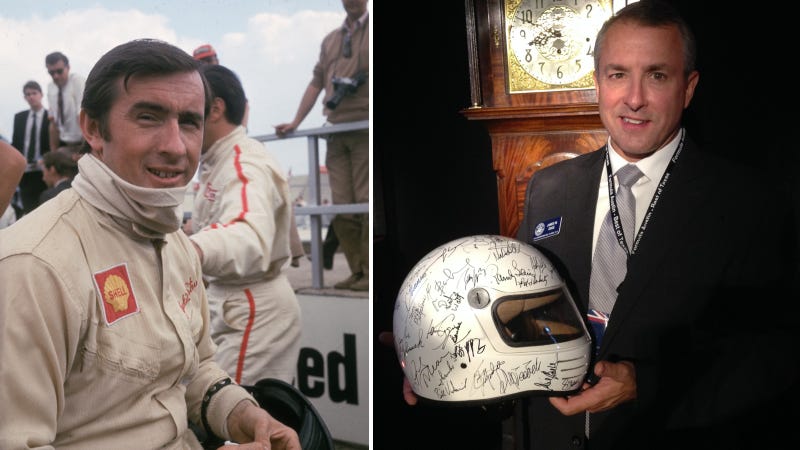 When James W. Edge bought a white racing helmet at the Indianapolis Motor Speedway, it wasn't for racing. His goal was to get it signed by every Indy Car driver he could find. Life made him abandon his project for 16 years, but he finally finished it on Friday thanks to the one big name he had been missing: Legendary Scottish driver Sir Jackie Stewart.
Edge bought the plain white Simpson racing helmet at Indy in 1989. It's identical to the one drivers were wearing at the time, and over the years he filled it with the signatures of some of the world's most famous drivers from Indy, primarily, as well as Formula One.
On his yearly pilgrimages to the Indy 500, he got signatures from Nigel Mansell, Tony Stewart, Mario and Michael Andretti, Damon Hill, Emerson Fittipaldi, AJ Foyt, and "all of the Unsers," he said. He has dozens of names on it.
"Back then, I was just giving it to every driver I could find," Edge, a native Texan who works for a Central Texas congressman, told me on Friday. "Pretty much anybody who was a name in the 70s and 80s, I've got on here."
Others include Willy T. Ribbs, Indy's first black driver, and some slightly less-renowned names like Duke Nalon, Stan Fox and Scott Brayton. Some are still alive, others aren't, and sometimes from crashes.
As you might expect, it wasn't always that easy to get the names, or to discern which signatures are which these days. He remembers handing it to a young Tony Stewart, who then as now wasn't the most congenial dude on the planet, who quickly scribbled something Edge can no longer find.
One of his more interesting gets was the signature of Pat Flaherty, who won the Indy 500 in 1956 and then faded into semi-obscurity after a car accident ended his career.
"This was back before the Internet, so I had to write letters to find him," Edge said. He found out that Flaherty, pictured above in 1956, was racing pigeons (the bird, not some kind of car you've never heard of) in Chicago, and went to see him.
"He was super nice," Edge said of Flaherty. "He said he never went back (to racing) because he thought no one cared about him. I said, 'If you went back, people would throw a parade on your behalf.'" Flaherty died in 2002.
Edge never got the signature of Troy Ruttman, who died in 1997, but the helmet's most glaring omission was Jackie Stewart.