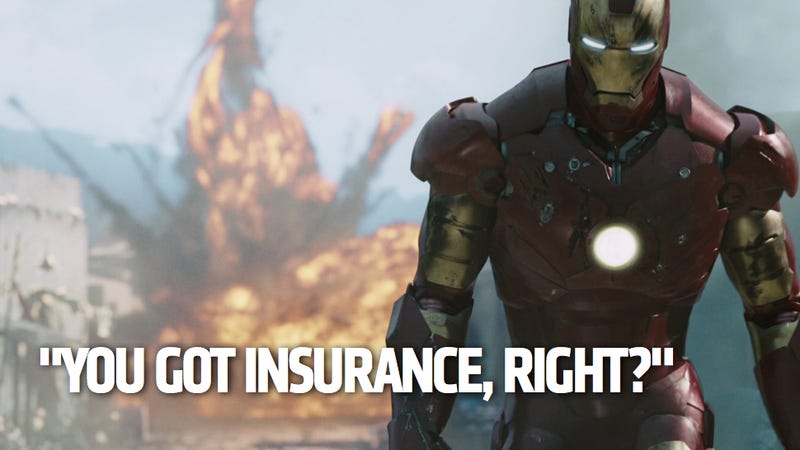 Tony Stark is a man of wealth and taste. He likes cars that are obscenely fast and ludicrously expensive, like the Audi R8 and the Saleen S7. But when he dons his Iron Man suit, cars get blown up. Specifically, his cars. And other people's cars. Also military equipment, aliens, and his enemies, but especially cars.
Bruce Wayne has his Lamborghinis, that sexy MV Agusta in The Dark Knight and his various Bat-vehicles, but the case could easily be made that Tony Stark is the foremost car guy in the realm of comic book movies. He's shown to have a need for speed and an enviable collection of old and new automobiles from around the world including a 1967 Shelby Cobra, a Tesla Roadster and an old Ford hot rod.
But Tony Stark also has a horrible track record when it comes to vehicular destruction, and it could be argued that he is, in fact, the world's most abusive car collector.
This isn't always his fault — he's a superhero and a billionaire CEO, and that means he gets targeted by all sorts of laser-toting, missile-shooting, plasma-whip-having nutjobs. And sometimes his cars get caught in the crossfire. And sometimes, cars get blown up when Tony Stark simply happens to be around them. He's bad car luck, I tell you!
With everyone rushing out to see Iron Man 3 this weekend, now seems like a great time to tally up exactly how much it would cost to replace all of the cars that were damaged or destroyed in the first two films. For the purposes of this story, we're pretending that Iron Man and all of his cars are real, and not fiberglass movie props, obviously.