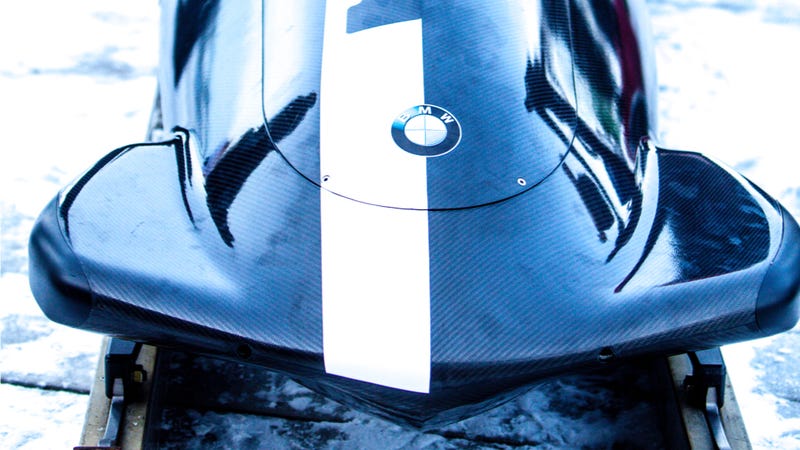 The American two-man bobsled team didn't do so hot on the track at the last Winter Olympics. While the four-person crew took home the gold medal, the shorter sled only came in sixth. And one reason was because their sled was nearly two decades old.
In any form of racing, technology can make or break a championship. The fastest driver in the world can't take any trophies unless they can turn harder and move quicker than the next guy on the track. This notion goes double for bobsled, where teams hurtle along at more than 80 miles per hour down a winding, banking, ice-covered chute with not so much as a seatbelt to hold anybody in.
It's a sport that's been dominated by alpine Europeans since its inception. Germany, Italy, and Switzerland have combined for 41 Olympic medals in the two-man bobsled competition, or almost 76% of all medals ever handed out. That's not "just gold medals," but all medals. The top non-alpine team, the USA, comes in fourth on the medal count list, with seven.
The last time the American team took gold in the two-man sled was 1936, when Alan Washbond and Ivan Brown took first place, beating the Swiss. In case you're forgetting how long ago that was, Roosevelt was President, Hitler was Führer, and Betty White was a young lady.
This picture, from the 1932 Olympics in Lake Placid, New York, showed pretty much what that whole thing was like:
Yeah, it was a really long time ago.
In 2010, when the Americans placed sixth, their sled was 19 years old. Let's say that again: nineteen years old. Imagine running the biggest Formula One race of your life against Sebastian Vettel, and he's in his fantastically new Red Bull with all its whiz-bang tech, and you're stuck with a car from 1992. Except that your racer from 1992 was designed by NASCAR driver Geoff Bodine.