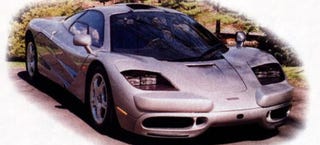 The reason you don't see any of the seven Ameritech McLaren F1s out there is because there are none left. But that can change, thanks to the wonders of Ebay.
Ameritech converted seven McLaren F1's into single-seaters with a modified bumper and less power in order to satisfy the feds and make the world's fastest car (barely) legal in the US. Here's what Peloton25 knows about this transaction:
Basically as I have been told (and this is depending on who you believe) Dick Fritz of Amerispec Corp used some connections at DOT and the EPA, along with exploiting some loop-holes in the laws governing vehicle importation to somehow become a manufacturer, and in the process imported 7 F1s through a 'Free Trade' zone.

Each one was given a new 'Ameritech' VIN number and supposedly all the cars were converted with some funky looking exterior parts, and the two passenger seats were also "removed" (by fitting them with crude covers) in order to satisfy the regulators. There were possibly other changes required too under the skin, but the ones I mentioned are the ones that were most visible.
Some have even claimed that not all the cars were ever even converted with those parts to begin with. Six of the seven Ameritech F1s were basically silver, and so it would have been easy to present photos of the same car multiple times since most of the cars would not have needed to be inspected first hand, or at least that is my understanding.
Meanwhile, one of these silver McLaren F1's made it into the 1997 December issue of Road & Track to show America what the British were on about. As you would expect, it was a Euro-spec car.
Two years later, the Show and Display exemption came to reality (thanks Bill Clinton!) giving a lucky few the opportunity to push their Porsche 959's to the limit. Just ask Jerry Seinfeld or Porsche turbo fanatic billionaire Bill Gates.