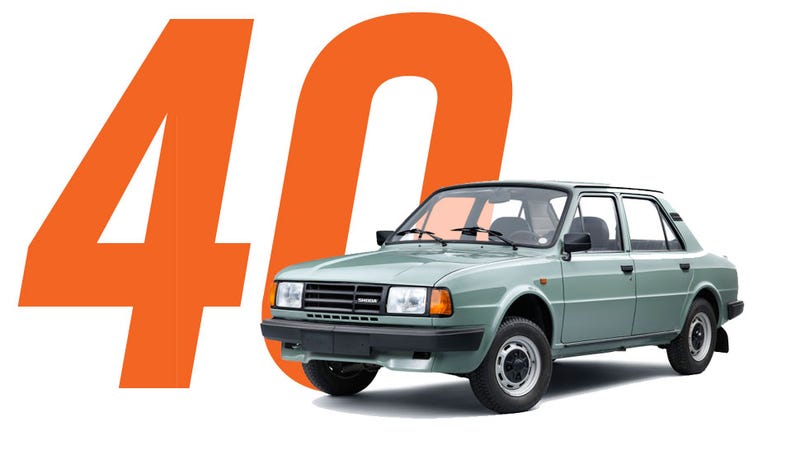 This week marked the 40th anniversary of the Skoda Type 762 series of cars: The Skoda 105, 120, 130, 135, Rapid and so on. Though pretty much unknown in America, these were very popular in Eastern Europe, especially what's now the Czech Republic. They're among the last of the general-use rear-engined cars developed, so they have a special place in my rear-engined heart.
When they were being developed in early-mid 1970s Czechoslovakia, the goal was to produce a more modern-style front-engine/front-drive car like most of the other major automakers were doing. The future looked like the Volkswagen Golf and Honda Civic, and Skoda wanted to be part of that.

Of course, Skoda couldn't just do anything they wanted. As part of the Soviet Bloc, they had to get approval from Moscow for a major project like this. The Soviets realized that if Skoda was going to develop a completely new and modern style FWD car, it would immediately make all the Soviet cars for sale look old-fashioned and obsolete, and there's no way the Soviets were going to let that happen.
Skoda was denied funding to develop a whole new car, and instead had to rework their successful but aging Skoda 100/110 platform, which was rear-engine/rear-drive. Rear engines had their peak in the 1960s, when they seemed like the future of small cars. Everyone was making them: Renault, Fiat, Simca, Volkswagen, hell, even Chevrolet. But eventually the benefits of transverse, FWD layouts won, and that was that.

I'm glad the Soviets were so insecure; if Skoda had made another capable but boring FWD car back then, I'd barely have paid attention. By reworking their rear-engine design into something more modern and capable, I think they ended up with a unique little gem.
While the basic layout was the same, they changed some key things: they moved the radiator up front, which added a lot of long plumbing lines but cooled the inline-4 much better. It also made the car sort of a stealth ass-powered car, because the front radiator made the car look like most other front-engined cars of the time.