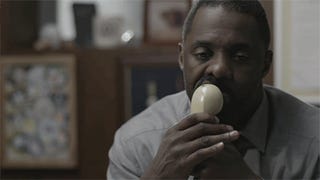 Have you seen the British police procedural 'Luther' on the BBC? Idris Elba, who stars, is great. Ruth Wilson, who tags along as the charmingly sociopathic Alice Morgan, is a delight. It has some of the best production value of any BBC show. Yet, if I'm being totally honest, it's not that great.
'Luther' is both extremely watchable and entirely unsatisfying at the same time. Imagine eating PopRocks. Now imagine being forced to eat nothing but PopRocks. Lots of sensation, not much to fill you up. I think it has something to do with the SVU/Criminal Mind-style episodic serial killer garbage mixed into an otherwise smart premise. But Idris — our could-be Black Bond — Makes it all worth it.
There's nothing but drama in F1 lately, complaints about it not being good anymore, abut bad decision making. The parade courses. The no passing. The roman candle tires. Yet, for whatever problems, it's so watchable. Maybe Jaybe_III has a solution to their turbocharging sound issues?