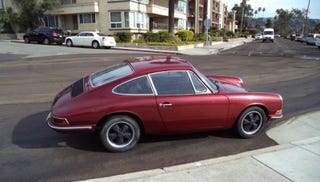 At one time Porsche's 911 went one rung up the numerical ladder to 912, while that car's cylinder count concurrently dropped from 6 to 4. Today's Nice Price or Crack Pipe Porsche is said to the a former 911, but owing to its four-banger, it's now a 912. Will you find its price to be also be a numerical conundrum?
We need to come up with a term like 'butter face' for otherwise cool cars that are saddled with automatic transmissions, you know one that calls out that singular negative but perhaps not so misogynistic. I'll expect that you are getting right on that, m'kay?
While you're mulling over a new meme, let's see how yesterday's automatic equipped 1974 Opel Manta faired in our challenge. Ooh, not so good I see. Fully 65% of you couldn't see paying its asking and the main source of contention appeared to be that car's fun-sapping slush box.