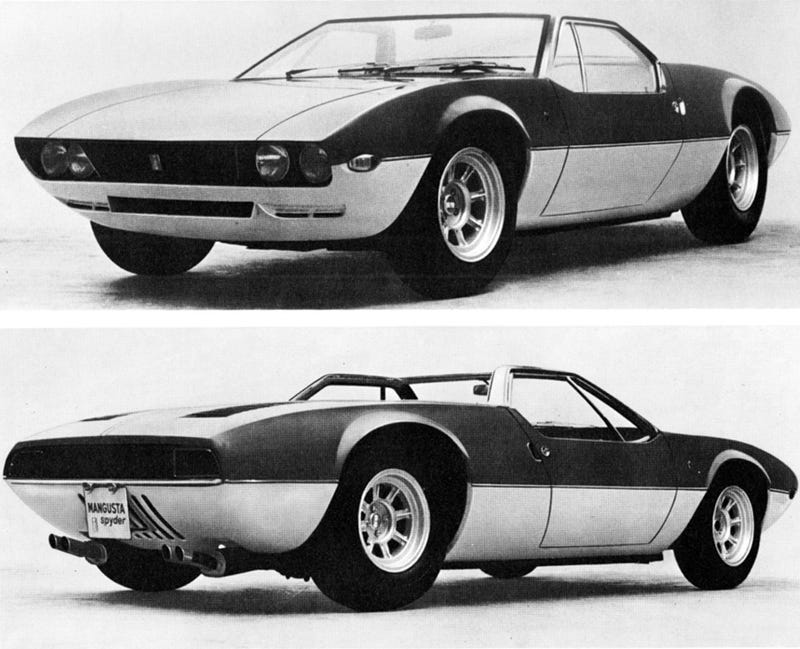 VIN #8MA512 is the seventh De Tomaso Mangusta chassis built. It's also a one-off prototype presented at the 1966 Geneva Motor Show by Ghia, with Giorgetto Giugiaro on the receiving end of all the props.
After Alejandro de Tomaso managed to sell 52 Vallelunga coupes, he felt some money in his pocket and decided to upgrade for a bigger car powered by a Ford V8 with the help of Carroll Shelby.
Designed by Giugiaro at Ghia, 401 Mangustas were built in five years, first with the 289 engine, then with 302-inch engines mated the a ZF five-speed manual. The cars were much more expensive to build than De Tomaso's next car, the Pantera, and also had rather poor handling, which according to Dick Russin (insider and owner of a Corvette L-79 powered Mangusta, built at the factory in 1969) was due to bad chassis design:
There are two rear bridges, the small forward one could have been an early production correction attempt but an inadequate fix. The bridges link the two sides of the upper rear sub-frame carrying the transmission, it was hard mounted to the transmission and soft mounted to the frame, each with one shock Bushing and bolt per side. There you will find the flexibility.

That meant they acted like hinges when side force was applied to the upper rear control arms, resulting in the understeer / oversteer condition.
These issues didn't really effect the fate of the one-off Spyder. Finished in 1966 but registered only four years later, this car shows similarities with other Giugiaro designs of the era, like his Karmann Ghia replacement that never was.