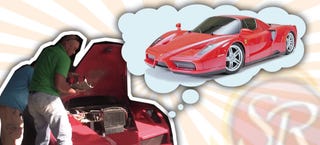 Super Replicas' websites trumpet perfect copies of Ferraris and Lamborghinis powered by anything from Toyota V6s to BMW V12s, all depending on the size of your imagination and your wallet. The reality is far less glamorous, according to exclusive videos shot in secret and featured on Jalopnik.
The unedited video footage you are about to see comes from Ryan Grassley, also known as HalfThrottle: avid motorcyclist, videographer, former National Guardsman and ex-Panama resident. When Grassley lived in Panama, he managed to score an up close and personal look at a storage facility in the city of David where Super Replicas stores at least some of their vehicles.
Yes, vehicles. This makes it clear they have or had at least two cars in their possession — but as you'll see, neither is a very impressive "replica," and neither of them even start after multiple attempts.
What's not clear from any of this is what these cars are even used for. All the images of cars shown on Super Replicas' websites are of actual cars, taken from other sites, not their own replicas. And in more than a year's worth of research, Jalopnik has never found a single satisfied Super Replicas customer, let alone a buyer who has received any kind of car at all.
It's also not clear whether the "replicas" shown here were actually built by Super Replicas or if they were obtained elsewhere.
The videos also show their "garage" to be a far cry from the sophisticated international operation they claim to be, but rather just a shoddy-looking driveway where no one actually seems to know how to work on a car.
Super Replicas has not responded to an email request for comment sent via their website, Mansory Cars, which is not affiliated with the real Mansory.
The videos also contain conversations with Daniel Seppings, the accused scam artist and religious extremist behind the company — a man whose bizarre previous chance encounter with Grassley spurred him to make these videos in the first place.