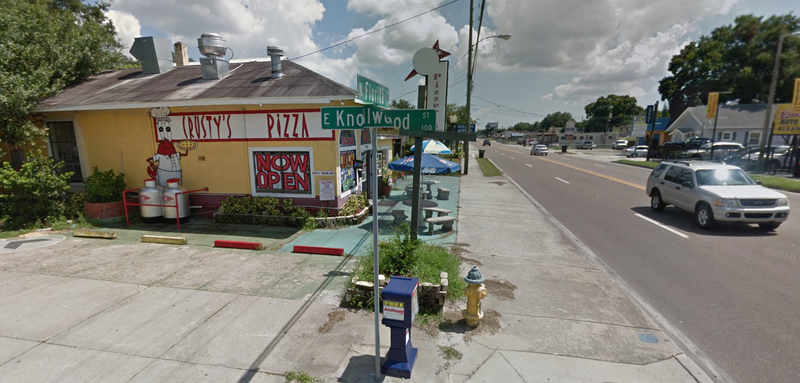 UberEats says it's able to deliver you "the food you want" at "Uber speed." On Sunday, Florida police say a driver for the ride-hailing service added drive-by shooting to that equation: he reportedly shot up a pizza place in Tampa with a BB gun after getting into an argument with the restaurant's owner.
Not much is known so far about the incident, but Tampa police say around 2:40 p.m. Sunday, an UberEats driver arrived at Crusty's Pizza on North Florida Avenue. It's unclear what initially transpired, but a Tampa police spokesperson told Jalopnik the driver allegedly "got into an argument with the owner of the ... restaurant over a food order."
"The suspect then went to his vehicle and as he was driving away fired three rounds from a BB gun into the restaurant's kitchen window," the spokesperson said in an email.
Shortly thereafter, police said, the suspect—described as a Hispanic male with a goatee, wearing all black clothing and a black hat—returned and fired two more rounds from the BB gun into the front windows of Crusty's Pizza, as well as another restaurant located next door. He then fled southbound on Florida Avenue.
No injuries were reported, and police said the investigation remains active at this time. The suspect has yet to be arrested.

In recent weeks, Uber has been at the center of several claims of violence involving drivers for the ride-hailing app. A lawsuit in Pennsylvania filed this month said a driver beat a passenger and "left him in a pool of blood." A suspect has since been arrested. And in December, a Michigan Uber driver was charged for allegedly stabbing a passenger for "disrespecting" his vehicle.