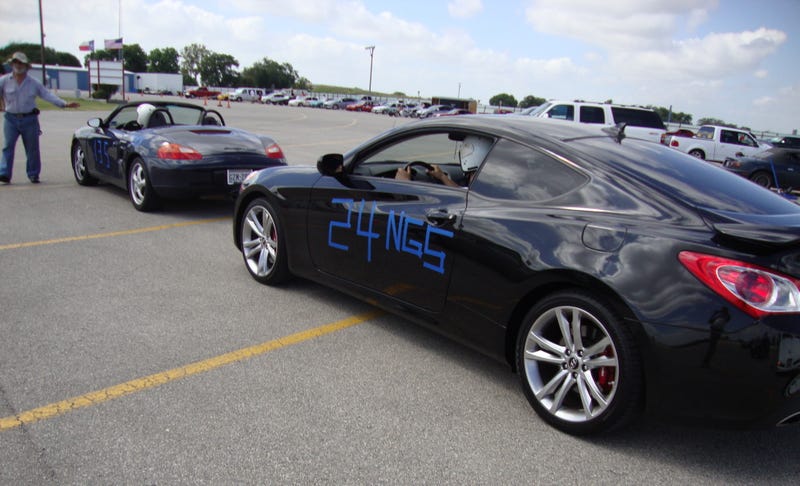 "You comin' this weekend?" asked another member of the Spokes autocross group at our Friday group lunch. "You haven't been to an actual autocross in a while. You've been busy with road racing or LeMons or something." Oh my gosh, I thought—I hope he doesn't think I've turned into one of those guys.
Those guys. Everyone in motorsports has encountered those guys. You know the ones: the ones that claim that [series/discipline/etc.] is total poopsauce and lets the entire world know why he thinks what you're doing sucks.
Granted, everyone has favorite activities, so it's hard not to accidentally let your own personal that guy-isms slip out. I'll admit that I like having a giant chunk of enduro seat time over the minute-long runs of an autocross. Plus, that familiar burning sensation on the top of my head right now reminds me that I'm not exactly made for standing out in the sun for an extended period of time.
But those guys take it a bit farther: "buncha goofy cone-dodgers," "just farting around in a parking lot," "way to waste an entire day for five minutes total of drive time," etc., etc.
It's almost comic for me to hear those kinds of remarks, but to some, they're genuinely hurtful. As someone who is more used to nice patches of grass, kerbing or walls telling me where not to go, autocross completely breaks my brain.
It's a completely different style of driving, and a whole different challenge every time. There are no track notes to study before you go, and the course is definitely not available on a sim racer. Sure, there's advice on how to take different elements like slaloms or sweepers online, but you won't usually see the specific combination of those elements until you show up for race day.
I can usually get the smoother, faster sections down okay, but autocross sometimes has turns where taking the shortest distance around the turn is faster than the straightest line possible (wide entry, tight at the apex, and then going back wide on the way out). I have trouble wrapping my head around that sometimes. That's my excuse, anyway, and I'm stickin' to it. (Also, I frequently get lost on course.)
To put it nicely, I suck at autocross. Badly. Thus, it earns my respect. Don't knock the parking lot warriors until you've tried it. It's a decent way to learn how to not panic when your car gets out from under you, too.
That guy is not a phenomenon limited to autocross, either. Ask any drifter about the numerous snotty comments about being involved in a sport that's really difficult to do well but still judged on style points. "It's the ice skating of motorsports!" say numerous dudes who don't get the implications of that comparison. You know what else requires a lot of talent, coordination and practice to do well, especially when competing at a top level? Ice skating.