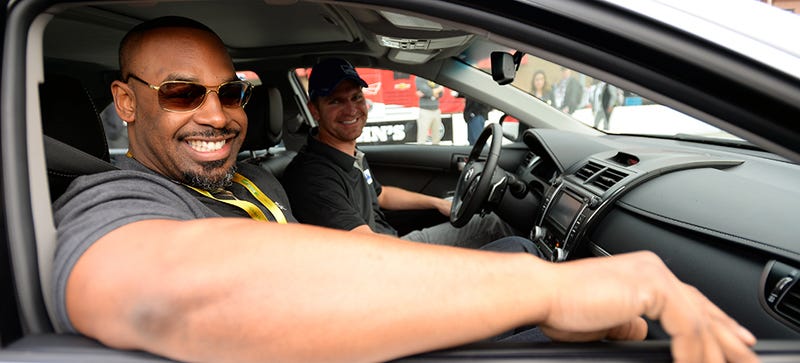 Donovan McNabb, retired NFL quarterback for the Philadelphia Eagles, once claimed that racing drivers were not "athletes." He would obviously know, from the many years that he did not spend on the track. NASCAR drivers were pissed, but today he got a taste of why he was so incredibly wrong.
McNabb snagged a ride with NASCAR driver Clint Bowyer in the pace car and met with Kurt Busch before the start of the Auto Club 400 in Fontana, California. And whatever Bowyer did to him, it made McNabb gain a whole bunch of respect for these poor little non-athletes:
Great meeting 15 year nascar driver Kurt Busch. Truly an honor pic.twitter.com/xrjJhA0iWc

— Donovan McNabb (@donovanjmcnabb) March 21, 2014
Damn right.
Bowyer, for what it's worth, thought that McNabb should keep his current day job behind the analyst's desk:
"It's a good thing he was an 'athlete', because he's not worth a damn at driving," @ClintBowyer on @donovanjmcnabb pic.twitter.com/49DMqpddz4

— Alan Cavanna (@CopaCavanna) March 23, 2014
Alright, Donovan. You seemed to be a good sport about this whole thing, and I think it's time the motoring world made amends with you.
So, friends.
But one day you'll feel the full force of a Formula One car. And that day we will all laugh, and laugh, despite all of our friendship. Because there's a reason Ferrari F1 driver Fernando Alonso can break walnuts with his neck:
Athletes. Heh.
Photo via Getty Images