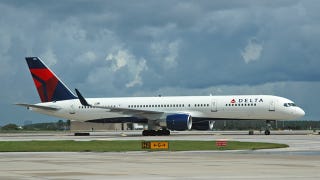 In 2013, Delta canceled only 0.3 percent of its flights — half as many as its nearest competitors, Southwest and Alaska Airlines. In fact, Delta didn't cancel any flights on 72 days last year! With 2,500 flights a day, how did they manage to perform this seemingly impossible task?
In response to a survey to its customers, Delta has changed its whole operational methodology in regards to how it handles flight delays. When given a choice, passengers said they would rather have a flight delayed by 2 hours over a canceled flight with a re-booking.
Okay yes, that would seem a little obvious to me, as a delayed flight is much less hassle to passengers and customer service employees on the front lines. Passengers said that with a delay, there is still the certainty of eventually traveling. When taking a delay, everyone pretty much just sits around, has a drink at the bar, or browses airport shops. But when a flight is canceled, passengers are put in the frustrating situation of lining up at the gate or ticket counter to be reaccommodated by an agent who is probably enjoying the situation no more than the customers.
Delta has adapted in two proactive ways. First, they try to make sure pilots are assigned to routes they can fly under the new FAA 14 CFR Part 117 rest restrictions that went into place in January, which lowered the limit of hours per month that a pilot is allowed to fly during a rolling month. Pilot rest time has come under much scrutiny in recent years, as fatigue was determined by the NTSB to be a factor in the crash of Colgan Airways flight 3407 in New York in 2009. If a pilot is nearing his/her hourly max, Delta will swap the crew to a shorter domestic flight instead of a longer international flight. If the crew were to hit their allowable flying time, they would be timed-out for 24 hours.
Wreckage of Colgan Air 3407 - Getty Images
Delta has also found a way to reduce cancellations caused by aircraft maintenance. The airline intentionally keeps about 20 spare aircraft per day on standby, and ready to be subbed in for another plane that has an unscheduled mechanical issue. Spare planes are kept in Delta's domestic hubs and Tokyo. Delta also keeps extra spare parts on hand, such as engine starters and cooling fans for cockpit computers. This allows for parts to be changed more quickly instead of cancelling the rest of that plane's flights for the day and waiting for the spare part to arrive.
People used to joke that Delta stood for "Doesn't Even Leave The Airport," but now it looks like the airline is on top of their game- a game that other airlines would be wise to join.
Top photo is by the author, Paul Thompson
Source: Wall Street Journal