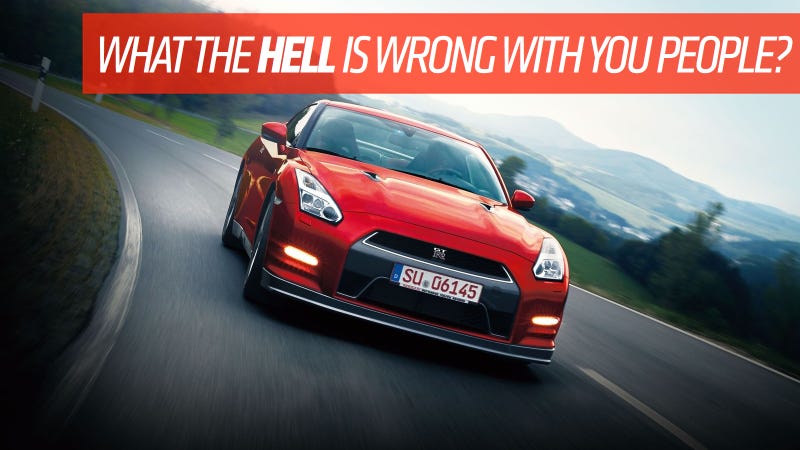 I've got a bone to pick with you, America. And this time it's not over the usual reasons like drone strikes, credit default swaps, various Kardashians, or how the breakfasts at IHOP don't look nearly as appetizing as the photos in the menus. It's over the cars you chose to buy in 2013.
Specifically, it's over the cars you chose not to buy in 2013. Last year, you went with the safe, boring choices you always go with. The Honda Accord. The Toyota Corolla. The Honda CR-V. The Ford F-150, although that last one is understandable because at least some of you might have a job that necessitates an actual truck, or you pretend to because you live in a nice suburb of Dallas and you need to fit in with the other rich pretend cowboys.
Let me first address who my latest beef is with. It's not really your average Jalopnik reader, who might have bought a BRZ or a Mustang or something crazy and ill-advised like a rusted-out Porsche 944 Turbo last year. It's aimed at the rest of mainstream America, whose conformity-obsessed, Consumer Reports-worshipping fervor caused them to buy the same cars as all the other drones.
In that fervor, America, you ignored some pretty amazing machines. And that's sad because I know you could have done better.
Our pals over at Autoblog recently compiled a list of the worst-selling cars of 2013, and guess what? They're all vastly more interesting than the best-sellers. I have listed them below, and made a case for each (well, most) of them. All I know is that these cars deserve homes just as much as the legions of Camrys that were bought in their place.
Maybe even more so.
10. Cadillac Escalade EXT (1,972 sold)
I don't know why you shrugged at the thought of owning an Escalade truck, America. Maybe it's because they get stolen all the damn time. Or maybe because it's been around for more than a decade now, and everyone who wanted one has already bought one, or stolen one.
Or here's another reason: It's because you hate your own country. See, no vehicle more represents America or her values better than the Escalade. It's big, it's shiny, it's badass, it's expensive, it appears in rap videos, it's exclusive, it guzzles gasoline, and beneath its veneer of luxury, there's not really a whole lot to it. It's both awesome and terrible at the same time, and you hate it because you hate America.
Enjoy your Accord Hybrids instead, libtards.
9. Volvo S80 (1,935 sold)
Sssshhhffffwwwhat? You guys blew off the S80? Come on, you're breaking my heart over here. So what if it's almost old enough to buy cigarettes now, or that the sweet Yamaha-sourced V8 has been discontinued? This is a great luxury sedan! It even has an inline six in regular and turbo flavors. It's super safe, too.
Why would you choose to put your children in danger by not buying the S80? Monsters, all of you.
8. Volkswagen Golf R (1,598 sold)
Come on, you didn't buy the Golf R? What are you jokers doing with your lives? All we do at Jalopnik is bitch and moan about the Volkswagen Group doesn't bring their coolest cars to the U.S.
Then they go and stick their necks out for us and bring us the Golf R, and what do you do? You leave 'em high and dry, you sorry bunch of ingrates!