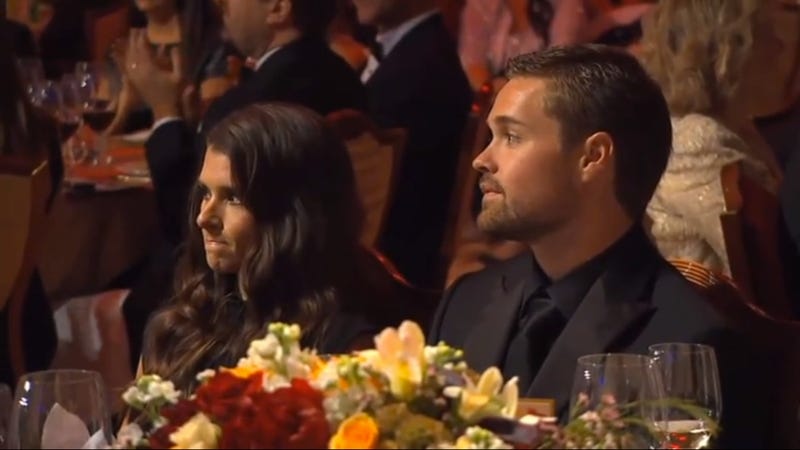 Danica Patrick has been racing in NASCAR since 2010, so you'd think she'd built a pretty thick armor by now, like every racing driver does. Comedian Jay Mohr had the chutzpah to mention her results, though, and suddenly all bets were off. Enter the icy glare of death.
Oh, and also the weird sadface from boyfriend and fellow driver Ricky Stenhouse, Jr. He kind of looks like someone told him the puppy he got for Christmas just died in the box it came in.
Mohr was doing his shtick at the annual Sprint Cup banquet on Friday night, and many of the jokes fell a bit flat. Though I'm not sure that justifies this reaction:
Truth be told, the only sadface should be reserved the jokes themselves, and not because they were at Danica Patrick's expense. Mostly because they were so darn unoriginal:
Danica I hope you're not too uncomfortable tonight. I know you're not used to being this close to the front!
ZING! POW! WHAMMY!
Okay, so her results have been kind of crappy. She grabbed the pole at Daytona this year, but that was pretty much that for the rest of the year. Not even a top-10 finish all season. Even still, that joke was a bit too easy, considering how interchangeable it is.
What was more unexpected, though, was Danica and Ricky's reaction of just complete and utter disapproval. The joke got some laughs and even more groans, but if you made a joke about Sebastian Vettel cheating his way to a championship, I'm sure he'd love it. He's the kind of guy that encourages crowds to boo him. Being made fun of is part of what you sign up for when you sign up for being a public figure.