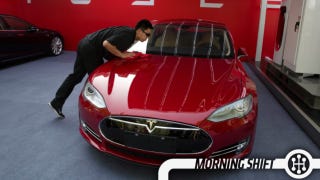 This is The Morning Shift, our one-stop daily roundup of all the auto news that's actually important — all in one place every weekday morning. Or, you could spend all day waiting for other sites to parse it out to you one story at a time. Isn't your time more important?
1st Gear: Oh China…
Zhan Baosheng reportedly wants $3.4 million because he registered "Tesla Motors" in China as an electric car company before Tesla got there, which is roughly the same as me registering Alibaba in the U.S. a few years ago.
http://washpost.bloomberg.com/Story?docId=13…
Thankfully, China already ruled against Baosheng once for what is, basically, trademark squatting/trolling, but this lawsuit is still ongoing according to Bloomberg and no one can have a trademark until all appeals have ended.
"We'll be watching how China deals with this very closely," said Paul Haswell, a Hong Kong-based technology law partner at Pinsent Masons. "So-called trademark trolls watch Western brand development and seek to register brands in China that are relatively well known in the rest of the world before they have any brand recognition in China, then use those trademarks as the brands expand into the East."
As China continues to want to look like a 21st century place to do business you'd expect they'd crack down on this, but it's worth noting that $60 million is what Apple forked over to get its iPad trademark back.
2nd Gear: Oh, China!
Ford and GM join Ze Germans in raking in that cheddar from China, with Ford China sales up 35% in the first half of the year and GM up 10.5%.