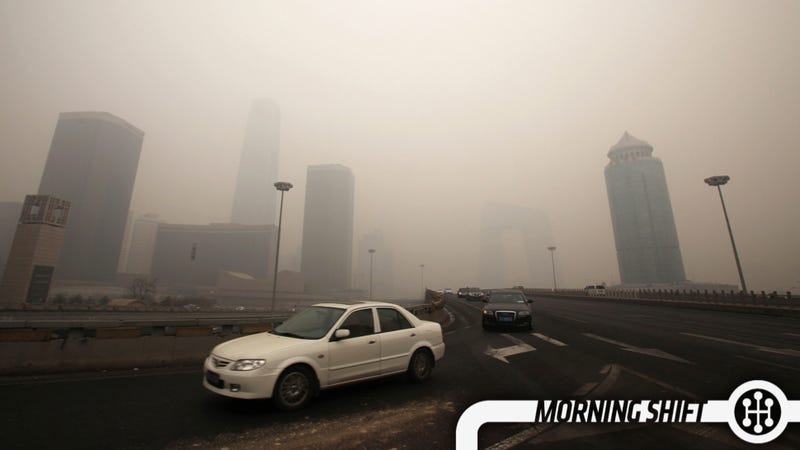 This is The Morning Shift, our one-stop daily roundup of all the auto news that's actually important — all in one place at 9:30 AM. Or, you could spend all day waiting for other sites to parse it out to you one story at a time. Isn't your time more important?
1st Gear: What's 20 Million Cars Mean?
You can complain all day about what the California Air Resource Board or Environmental Protection Agency are trying to do but, man, you don't want to be China right now.
Bloomberg doesn't pull any punches this morning in their coverage of the Chinese market by contrasting the fact that the Chinese bought more than 20 million cars in 2013 (more than any country ever in a year) and also has cities where they are is so toxic they tell old people not to go outside.
Here are some stats:
Total deliveries rose 14 percent to 21.98 million units last year and may exceed 24 million in 2014, the state-backed China Association of Automobile Manufacturers said today in Beijing. Last year's sales of passenger vehicles, excluding buses and commercial trucks, climbed to 17.93 million — or 15 percent more than the U.S. auto industry — and may increase 9 percent to 11 percent this year, it said.
And
China, the world's biggest carbon emitter, is home to some of the world's most polluted cities, with smog levels that can surpass World Health Organization safety thresholds by almost 40 times. Outdoor air pollution was found to cause lung cancer and linked to an increased risk of bladder cancer, a WHO agency said last month, rating it as a carcinogen for the first time.
We may also, sometimes, complain about China exporting their plastic crap to us, but let's remember that we're basically exporting cars (the designs at least, and the the pollution they cause) to China and taking in big profits. German, Indian, American, Korean, and Japanese companies all sell lots of cars in China.
2nd Gear: Wanxiang Really Wants Fisker
As we pointed out last week, the sale of Fisker to one Chinese billionaire has been put on hold as Chinese parts company — and A123 Systems owner — Wanxiang Group has upped what they're willing to pay for the company by $10 million.
We covered why Wanxiang might want the company, and certainly the gear above about massive pollution also makes it clear why, but what's in it for the sellers?