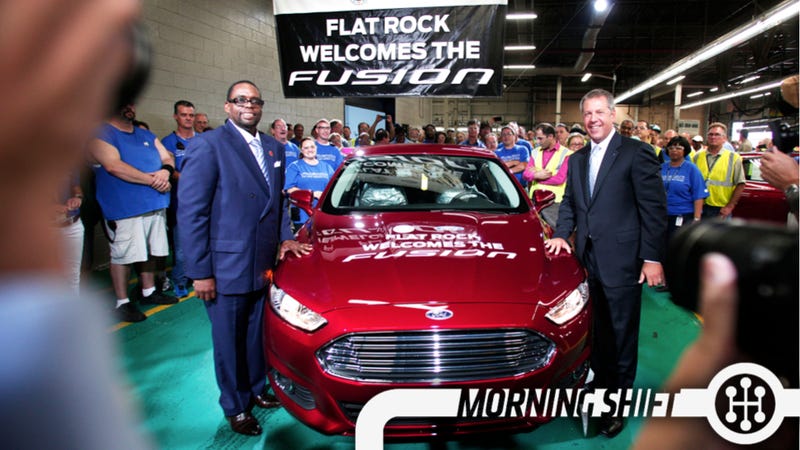 This is The Morning Shift, our one-stop daily roundup of all the auto news that's actually important — all in one place at 9:30 AM. Or, you could spend all day waiting for other sites to parse it out to you one story at a time. Isn't your time more important?
1st Gear: It's Not Just Mulally
The standard line on Ford is that they avoided the fate of General Motors and Chrysler by 'mortgaging the blue oval.' I.e., under Alan Mulally's guidance they leveraged everything they could to get as much money as they could as fast as they could. This is true, and it worked. When GM and Chrysler were on the ropes the U.S. had to bail them out because, quite simply, no one else had money they'd loan.
But what about the other big thing no one talks about? From CNBC via Automotive News:
Ford said in a live interview on CNBC's "Squawk Box" that the UAW worked closely with his company to help avoid bankruptcy and a government bailout.

"When our times were darkest in the '07, '08, '09 time frame, the UAW helped our industry get back on its feet, helped Ford get back on its feet," Ford said. "Ron Gettelfinger, the former president of the United Auto Workers, doesn't get enough credit for helping save Ford."

"When we got into a really tough period, I sat down with Ron and I said, 'You have to help me save the Ford Motor Co.'"
Of course, you could argue that the unions partially imperiled the company so it was only right for them to make sacrifices. Either way, both Ford workers and Ford itself have profited from the company's salvation.
2nd Gear: GM Recalling The Cadillac ELR Over Stability Control
Our advice to just recall every damn car now that everyone only cares about the Cobalt/Ion recall also apparently extends to GM itself, which is recalling 663 Cadillac ELRs for a flaw that may cause the ESC indicator light not to light up even though ESC may be off.
No known accidents have occured, according to David Shepardson, but engineers noticed the problem and decided to fix it ahead of time. BECAUSE THAT IS HOW THE NEW GM ROLLS, Y'All.
I know what you're thinking: GM sold 663 ELRs?
3rd Gear: Chrysler's 200 Not World-Beating MPG
We liked the 2015 Chrysler 200, but it's officially certified combined MPG of 28 MPG is much better than the outgoing model… but is it good enough?