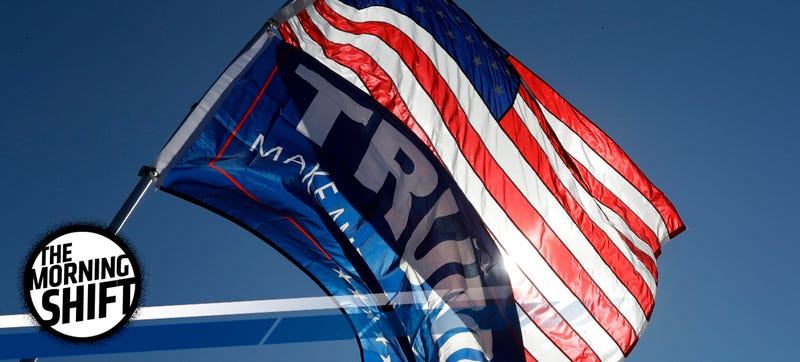 Good morning! Welcome to The Morning Shift, your roundup of the auto news you crave, all in one place every weekday morning. Here are the important stories you need to know.

1st Gear: Trump Trumped
One thing you can pretty faithfully count on is that people in the auto industry who make large political donations, whether they be car dealers or executives, tend to skew Republican. Low taxes and pro-business and all that jazz.
Citing a report from the nonpartisan Center for Responsive Politics, Automotive News writes that in past elections, candidates like Mitt Romney, John McCain and George W. Bush have raised millions from auto business donors. But Donald Trump? Only about $308,331 so far, the center says.
That doesn't mean these donors have flocked to Hillary Clinton, however. Clinton has raised about $431,000, a little less than Barack Obama in 2012 and about $200,000 less than Obama pulled in 2008.
Who are the top industry donors? South Florida auto dealer Norman Braman is the largest by far, at $7 million in this election cycle (most of it toward Marco Rubio's SuperPAC) followed by the National Automobile Dealers Association and then General Motors. And Republican candidates for Congress significantly out-raised Democrats from auto industry sources.
Guess they just don't like Trump very much!

2nd Gear: Ford's 'Limited Support' For Small Cars
As far as cars are concerned, Trump made headlines for his war of words with Ford over whether U.S. jobs would be lost as the automaker switches small car production to Mexico. Trump says yes; Ford says no, because the former American small car plant will now make trucks without losing jobs.
But it definitely shows where Ford, like Fiat Chrysler, is putting its emphasis on what's selling right now: trucks, SUVs and crossovers. Via Automotive News:
"At the end of the day, we have to make sure that as a business we are providing compelling products for customers at the right value that provide a good return for the company, so we can then reinvest in the products, in the people, in the facilities," [Ford CEO Mark] Fields said. "With these exciting products that we're bringing in, it's actually a net win for the UAW."

It's a major reversal of course for Ford, which converted Michigan Assembly from hulking SUVs to small cars after gasoline prices soared heading into the recession. Fields' predecessor, Alan Mulally, told USA Today in 2008 that the dramatic shift away from big gas guzzlers "is going to be permanent."

Now, Fields said Ford is keeping that experience in mind even as it heads in the opposite direction, promising four new SUV nameplates by 2020. He said the "small-car offensive" Ford announced in 2008 — which Fields executed as president of the Americas — wasn't a misstep because it gave the company's car lineup a sorely needed overhaul, even if the assumptions underpinning it were mistaken.
No one wants to buy the small cars.
: (
3rd Gear: Volvo's Lynk & Co. Has No Love For Dealers
And speaking of dealers, Geely/Volvo's new mainstream brand Lynk & Co.—which our Jason Torchinsky covered in Europe last week—aims to revamp the way cars are sold on several fronts. It debuts in China, Europe and the U.S. by 2018, and when it does, it wants to do retail dealer sales, direct sales via the internet like Tesla, and service through Volvo or independent chains.