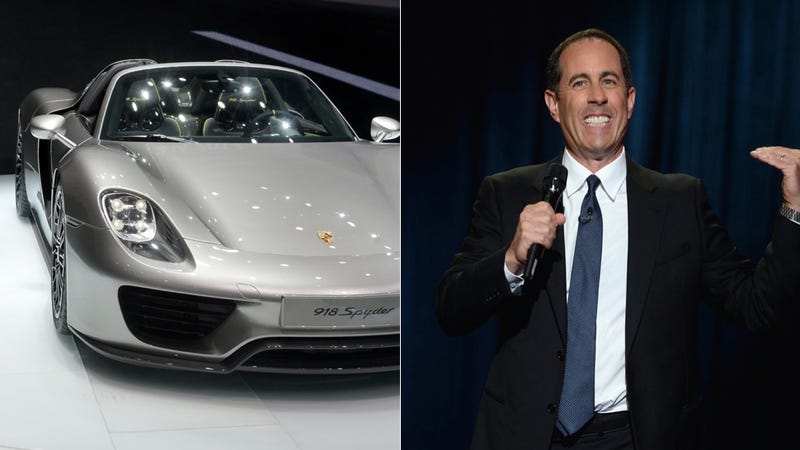 Of course you're a fan of Comedians in Cars Getting Coffee. Oh, you haven't got around to watching it? Well, could you start?
The comedian who drives the car to get coffee, Jerry Seinfeld, was kind enough to answer your questions for an hour today. You may also remember him from something called the 1990s, where he had a popular show on NBC that also had a lot of cars in it.
You asked some great questions and we found out a lot about his car history and take on modern Porsches, among other things. He also said he'd like a Porsche 918 Spyder, but needs some more eyeballs watching his current show. So watch it, and maybe you'll get a ride in his 918. Probably. Not.
Anyway, all the questions are in the original post below, but here are some of your great questions/his great responses I've plucked out:
Jerry, Thank you for taking the time to take our questions today.

My question: While planning a CCC episode, I understand that you try to select a car that best matches the guest's personality. Will you ever choose a Miata?

…..or is there anything wrong with that?

Mr. Seinfeld:

Thank you for watching my tv series and enjoying "The Outing" episode where Jerry and George are thought to be gay.

You know the Miata is a very important car, and I remember Letterman and I talking in 1990 thinking about getting one because we thought it was so great that a company was going back to traditional sports car values. The idea of making a new Elan was so cool, but it's not quite old enough and too popular for CCC. Not eccentric enough. i pick a car because I always wanted to drive it. Or its fun, or it relates to the guest.